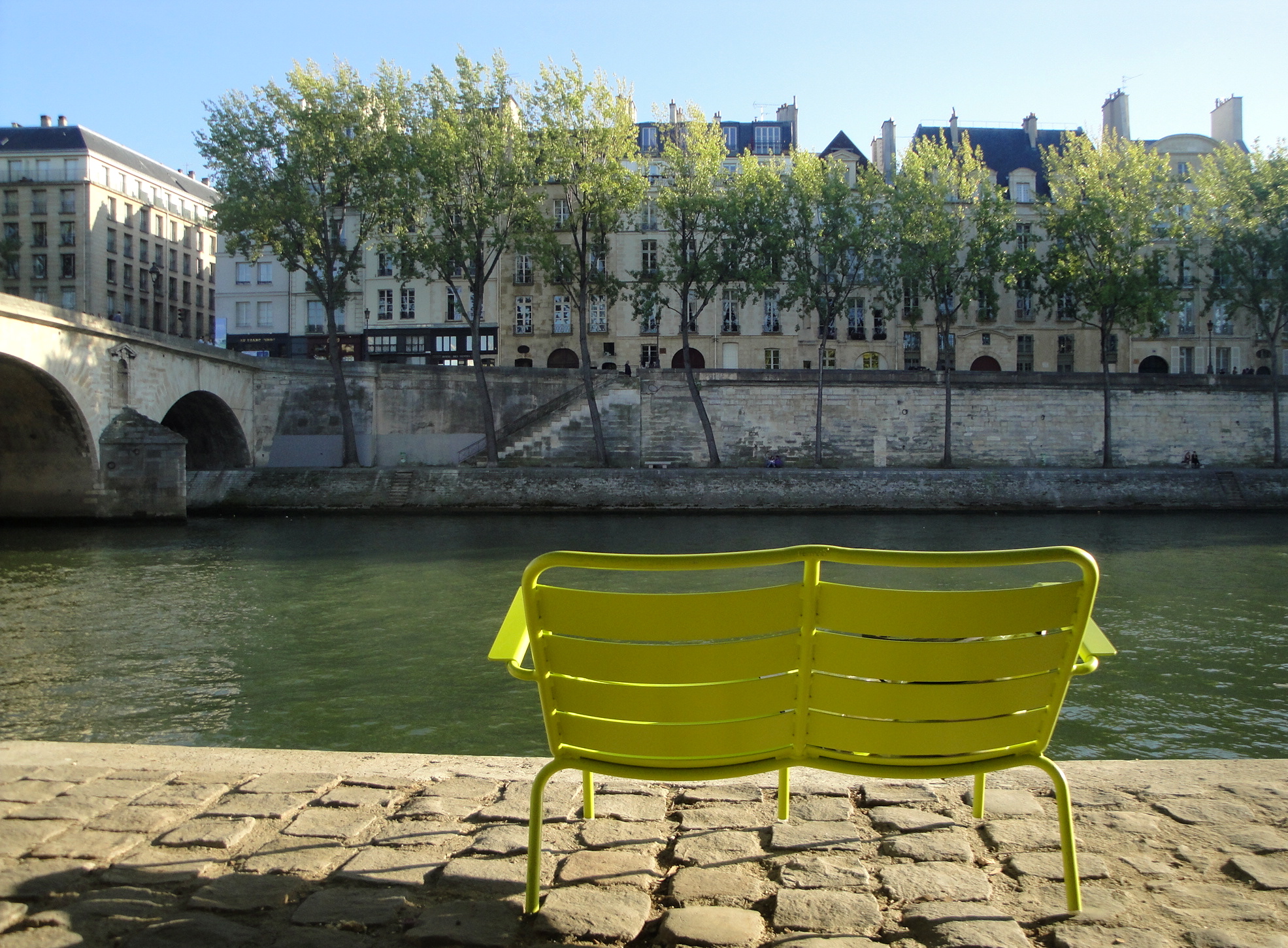 My first encounter with Paris was as a student living in London. Having dreamt about the city of love since hearing my parents recount their romantic interludes, I eagerly boarded the Eurostar, having no idea what to expect, and with only 24 hours to spare. Years later, I don't remember much of where I wandered or what I tasted, but what remained was the feeling. In that brief encounter I became completely smitten with the City of Lights and somehow knew this was my place on earth, or at least one of them. What I didn't know is that fate would find me living my own love story many years later.
Now, calling Paris my home for the last seven years, I can well advise visitors on how to spend a day discovering much of what this city has to offer, namely food, fashion and culture. For anyone coming to Paris for a quick jaunt, either alone or with a friend, here is how to spend 24 hours in my favorite city, and feel much like a local. Keep in mind that spring and fall are the most enchanting seasons to discover and fall in love with Paris, though it's shamelessly charming all year round.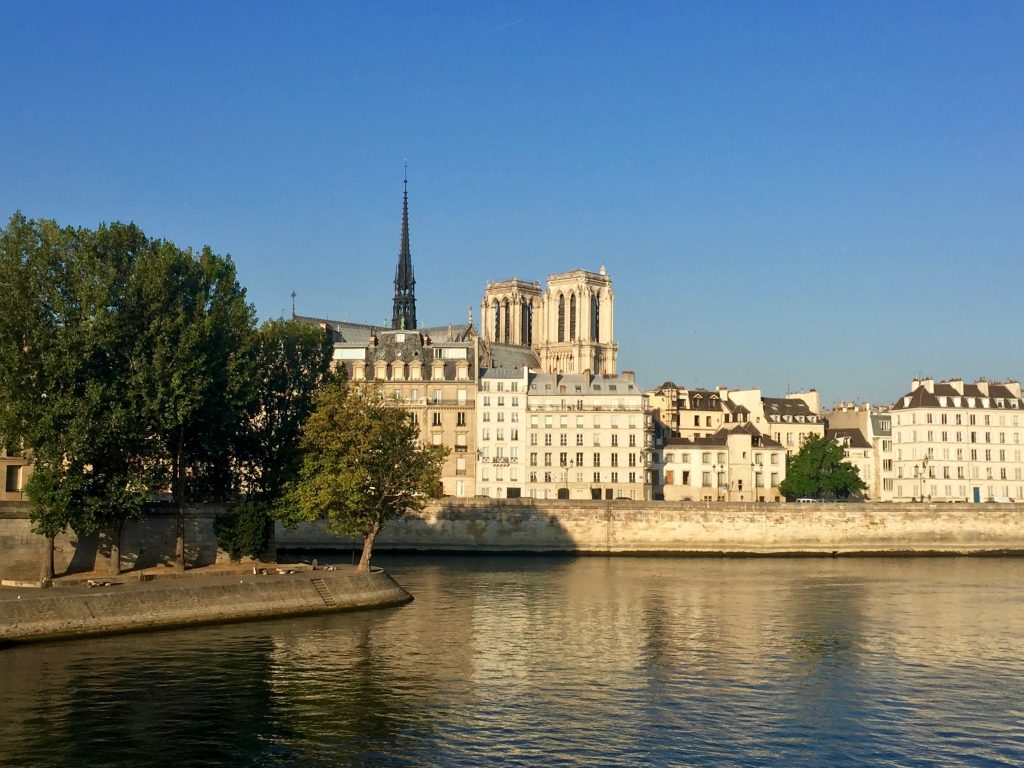 A real Parisian experience begins with breakfast at one of the best boulangeries in this food haven. A croissant is not simply a croissant until you've tasted Du Pain et des Idées. Make that a pain au chocolat. The most flakey and buttery you'll ever taste. (Keep in mind they are only open on weekdays.) If you prefer a more hearty meal, nearby Holybelly is as good as it gets. From here you can stroll along canal Saint Martin and make your way into the trendy North Marais for a café crème at boutique cum coffee shop The Broken Arm, or the uber cozy Boot Café.
After a stop at Paris's oldest covered market Marché des Enfants Rouges for a quick stroll or early lunch where you can feast on French, Lebanese, Japanese, African or Italian cuisine, continue along rue Vieille du Temple. You'll discover all the latest trends while passing the French fashion boutiques lining the street. It is here too that the Hotel Salé sits, home to the Picasso Museum, exhibiting the life and work of this Spanish master with an affinity for France. Recently expanded and re-opened, it's worth a visit.
If you're in the mood for classic French fare, head south along the same street until you reach one of Paris's most famous decades old dining haunts, Robert et Louise. In this charming bistro which maintains the tradition of grilling over an open fire, you can feast on escargots, côte de bœuf, and confit de canard among other dishes.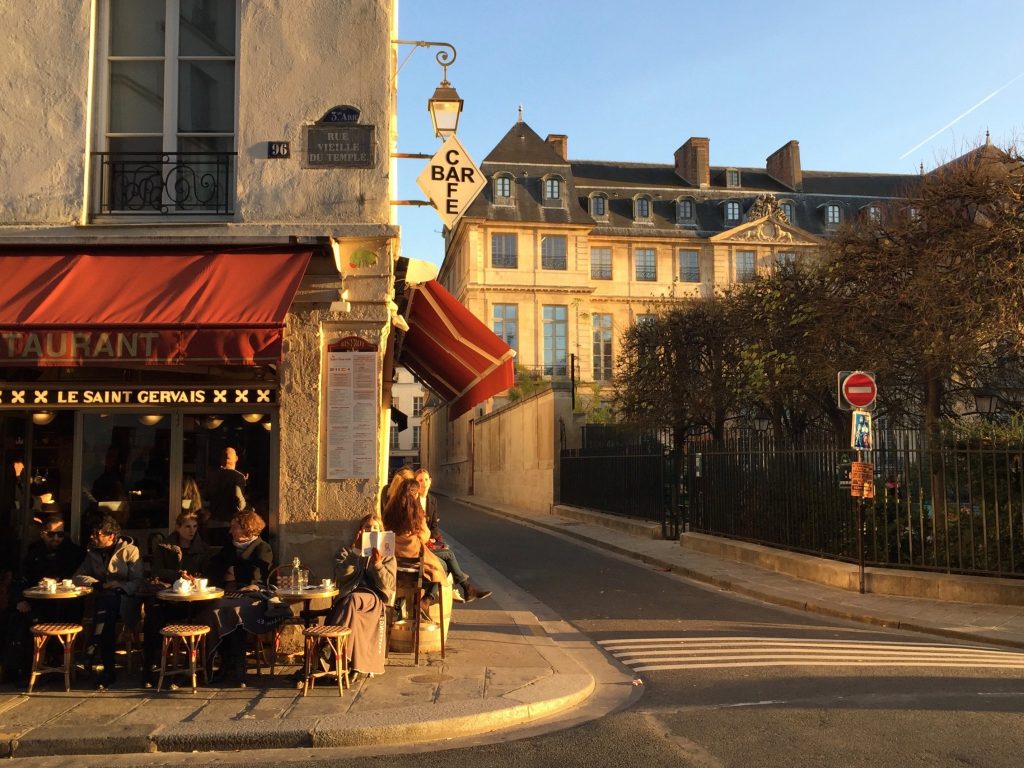 Part of Paris's charm is its tangle of narrow streets, my favorite being in the Marais. Once home to the French aristocracy, this is more recently where the Jewish community settled, making it a vibrant neighborhood even on a Sunday, while the rest of Paris sleeps. Stop by for a chocolate tasting at independent chocolatier Edwart or satisfy your sugar cravings with world famous Pierre Hermé macarons. Don't forget to try my most recent favorite, the heavenly cakes from Aux Merveilleux de Fred. (Did I mention I have a sweet tooth?) If tea happens to be your beverage of choice, skip the desserts and stop by French tea emporium Marriage Frères for an exotic blend. Don't leave without heading up the antique stairwell to their Tea Museum.

Next stop is a stroll through nearby Place des Vosges, an elegant historic square once called Place Royale. Writer Victor Hugo's home, now a free museum, is hidden within the brick facade. You can also find one of Paris's most elegant tea salons Carette, beneath the regal arches. (I won't mention how decadent their desserts are.)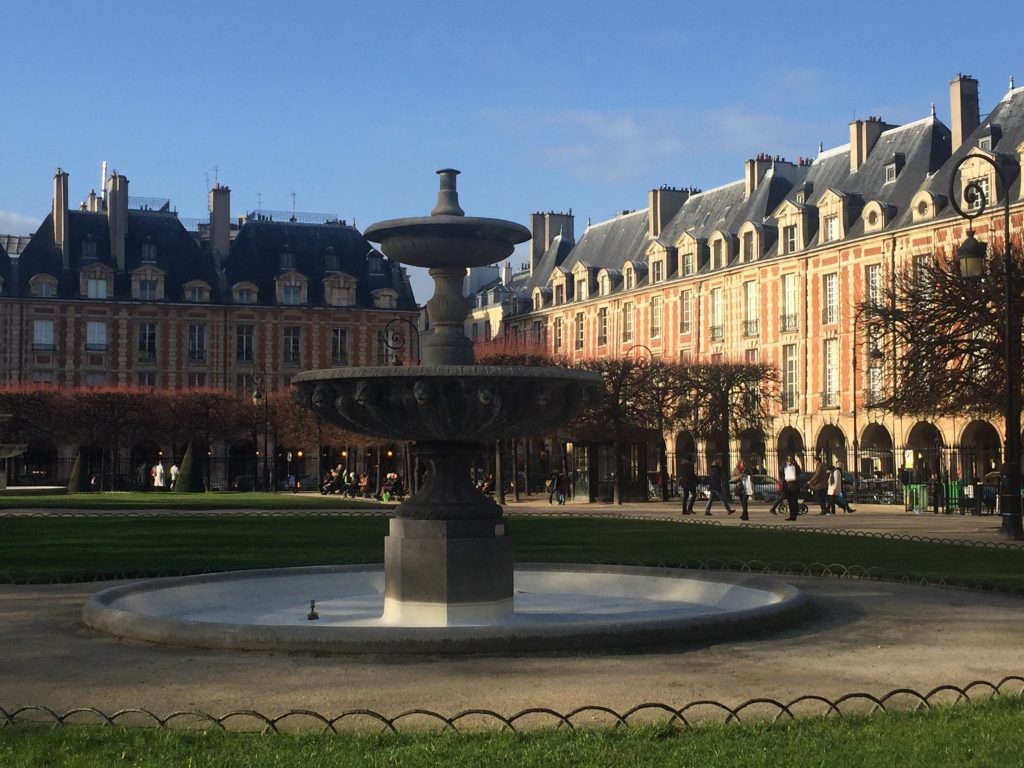 Continue walking towards the river and you'll discover one of the most picturesque spots in the city, and what causes me time and time again to fall in love with Paris, the island of Île Saint-Louis. This is the place to sit along the banks of the Seine and admire the pink and blue hues of an ever changing sky. Now back to sweets, it is here that the famous (and best) French ice-cream shop Berthillon can be found. Well worth the wait on line!
Crossing Pont Saint-Louis to the second of Paris's islands, Île de la Cité, you'll encounter 850+ year old medieval treasure Notre-Dame Cathedral. By courageously climbing 387 steps to the top of the South Tower, you'll be rewarded with breathtaking views of the city, as well as a few gargoyles.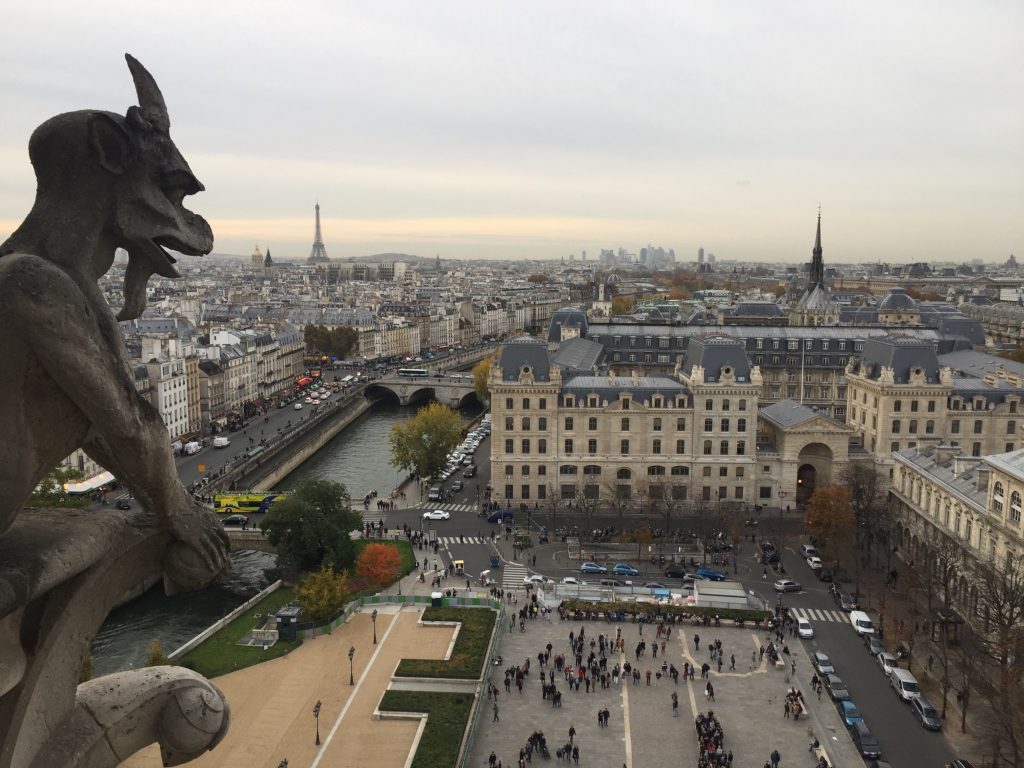 You could definitely spend all day walking along Paris's rues and boulevards, but a faster and equally scenic way to explore Paris is by Vélib', Paris's public biking system, or even better, by boat. Just in front of Notre-Dame Cathedral on the south side of the river, jump aboard the Batobus, what can accurately be described as a river shuttle service. With a one-day ticket you can hop on and off as many times as you like, at most of the major sights. Cruise from Hôtel de Ville, office of the mayor, to the world's largest art collection housed in the Louvre Museum. A stop here will bring you to the well manicured Tuileries Garden where you'll be in good company with Rodin and Giacometti, in sculpture form that is.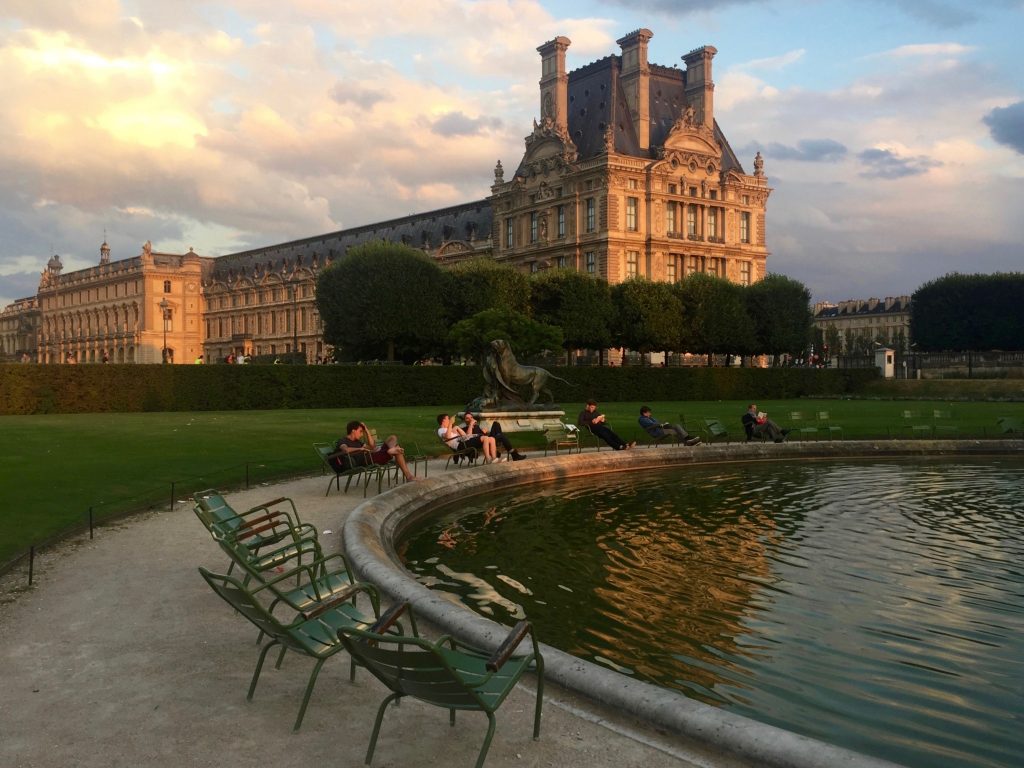 Continuing along the Seine via Batobus, you'll enjoy a magnificent view of the Eiffel Tower. Where better to savor a sunset than below (or atop) this cultural icon.
Another sight to behold along the Seine is the Musée d'Orsay. Formerly a train station constructed from 1898 to 1900, this left bank museum houses works from the Impressionist, Post-Impressionist and Art Nouveau movements. Even the facade, one of my favorite Parisian structures, is a work of art.
You can't visit Paris without getting lost in the rive gauche. Exiting the boat at Saint-Germain-des-Prés will find you in one of Paris' most charming, albeit touristic neighborhoods. The streets are lined with cafes and restaurants, including two of Paris's oldest and most well-known, Café de Flore and Les Deux Magots. Good stop for a glass of wine or chocolat chaud. It was at these cafes that the literary elite would often congregate, Hemingway included.
One of many French traditions is the evening apéro, shortened from l'apéritif, a before dinner drink. There are dozens of terraces in Saint-Germain in which to indulge in a glass of red, white or rosé. My terrace of choice for people watching (a favorite Parisian pastime) is Le Bar Du Marché. For dinner, head to neighboring French eateries Semilla and Fish La Boissonnerie, or latest hotspot Freddy's for more casual dining.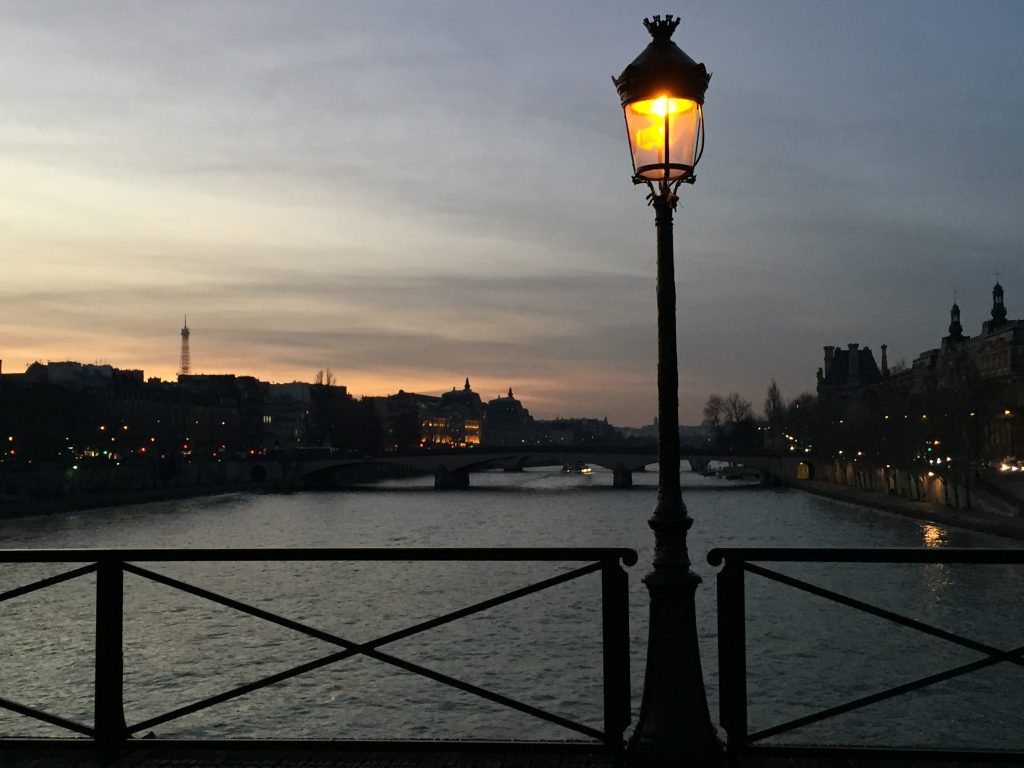 With an after dinner walk through the city by night, you'll quickly understand why Paris is so often called the City of Lights, with the 37 bridges illuminated and antique streetlights at almost every corner.
From here you can head to the rooftop of department store Galeries Lafayette for a first class (and free) view of the city (open until 8:30pm). During the summer months the sun sets late into the night, providing the perfect opportunity to head up to the artists' quarter, Montmartre. Take a metro or uber to Abbesses, walk up the hill (or take the funicular) to the steps of majestic Sacré-Cœur Basilica, and prepare to be dazzled by the twilight views.  Are you in love yet?