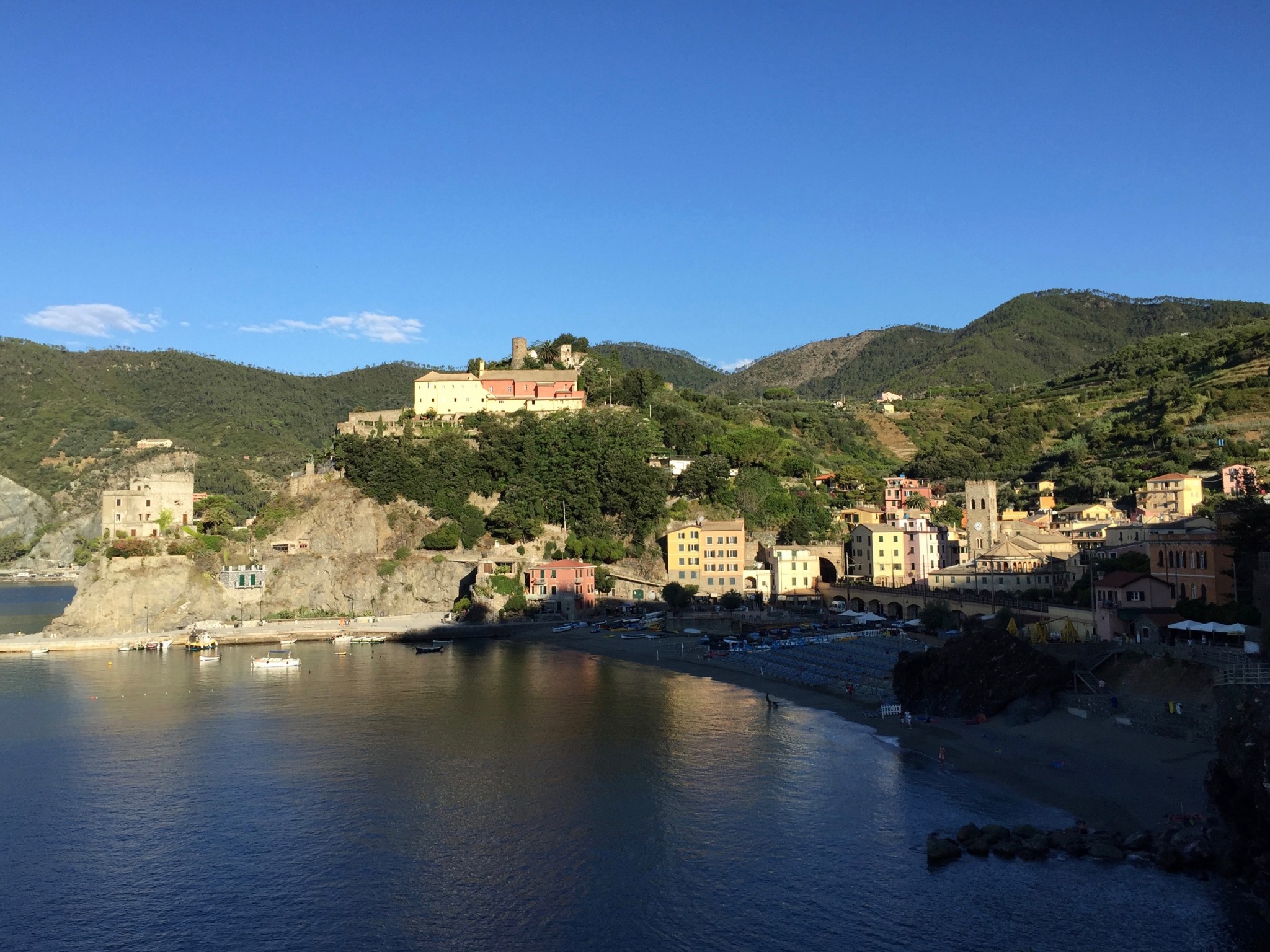 I first encountered Monterosso during my around-the-world journey in October of 2007. On a whim, I took the train from Santa Margherita and immediately became enamored with this soulful village set upon the Mediterranean. I spent five blissful days swimming in the sea; exploring the old town and tasting its culinary specialities; hiking from Riomaggiore to Vernazza, awed by the views. As I wrote in my travel blog, "I had discovered paradise." As chance would have it, the handsome Italian I serendipitously met on the streets of Soho, NY in 2009, comes from this very land. Monterosso has since become a place I know and love well, through its people, culture and traditions. It was the scene of our wedding in 2011 and every summer we live 'la dolce vita'. I feel grateful to call this part of the Italian Riviera my home, and to share it with those dear to me. As a Monterosso insider, I'm often asked where to dine, sleep, etc. Hence, I've decided to put together this Insider's Guide to Monterosso.
TRAIN TRAVEL. Arriving to Monterosso al Mare from Pisa or Genoa takes about 1.5 hours via Trenitalia. From Milan allow for 3 hours. I would not recommend driving as aside from taxis and delivery vehicles, the village is car-free, and parking is sparse. Stepping out of the train you are in Fegina, the newer part of the village. Exiting the tunnel on the left will bring you to Monterosso, the old town, and what I consider the most charming.
WHEN TO VISIT. The Cinque Terre is composed of five vibrant villages, Riomaggiore, Manarola, Corniglia, Vernazza and Monterosso, built upon cliffs and once upon a time accessible only by sea or train. The region didn't become a major international tourist destination until the 1990's, thanks in part to Rick Steves who fell in love with the five lands, making his home in Vernazza. Now these villages, some with populations as small as 250, are bustling with tourists during the summer season, mainly due to day tripping visitors and those arriving to La Spezia by cruise ship. My advice is to visit during the quieter yet equally sunny months of April, May, September or October. The season is long and it's always best to book accommodations in advance, especially for the summer months.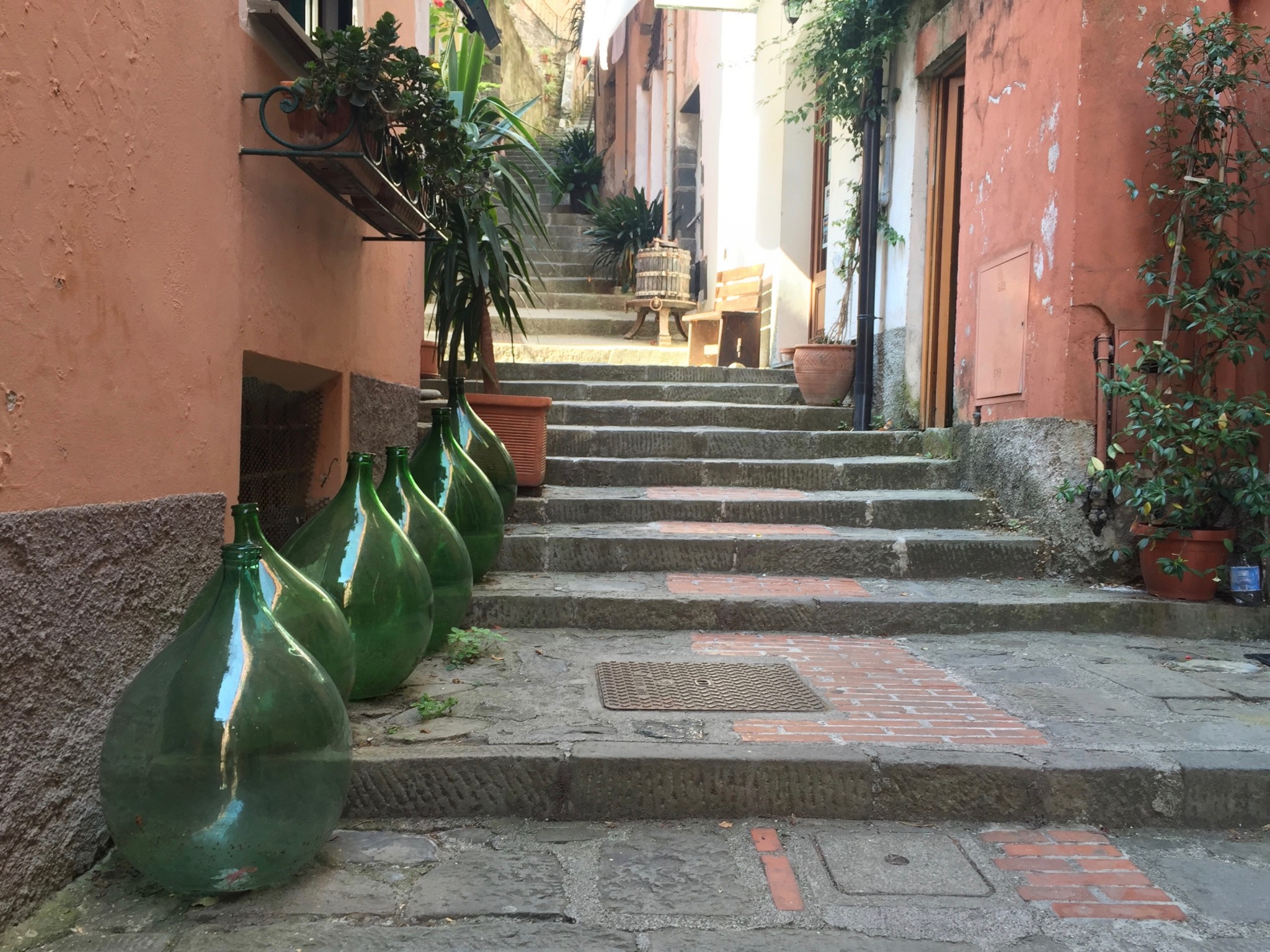 WHERE TO SLEEP. There are numerous hotels and B&B's in both Fegina and Monterosso. Here are my recommendations in the old town, all family run and filled with charm, rooms ranging in price from 100€-200€/night.
La Casa di Andrea: Five tastefully decorated double rooms with a garden and views of the village. Well worth the many steps up!
Bellambra: Four comfortable double rooms and one family apartment located in the heart of the old town, overlooking the main street.
Il Timone: Three cozy double rooms classically decorated, with sea views from the breakfast terrace. 100+ steps up from the village.
Il Maestrale: Several double rooms including a superior duplex room, all with views to the street below. Beautifully restored building from the 18th Century.
Hotel La Colonnina: Many double rooms including family rooms, some with terraces and views of the village. (Ask for a renovated room.) Lovely rooftop terrace with sea views.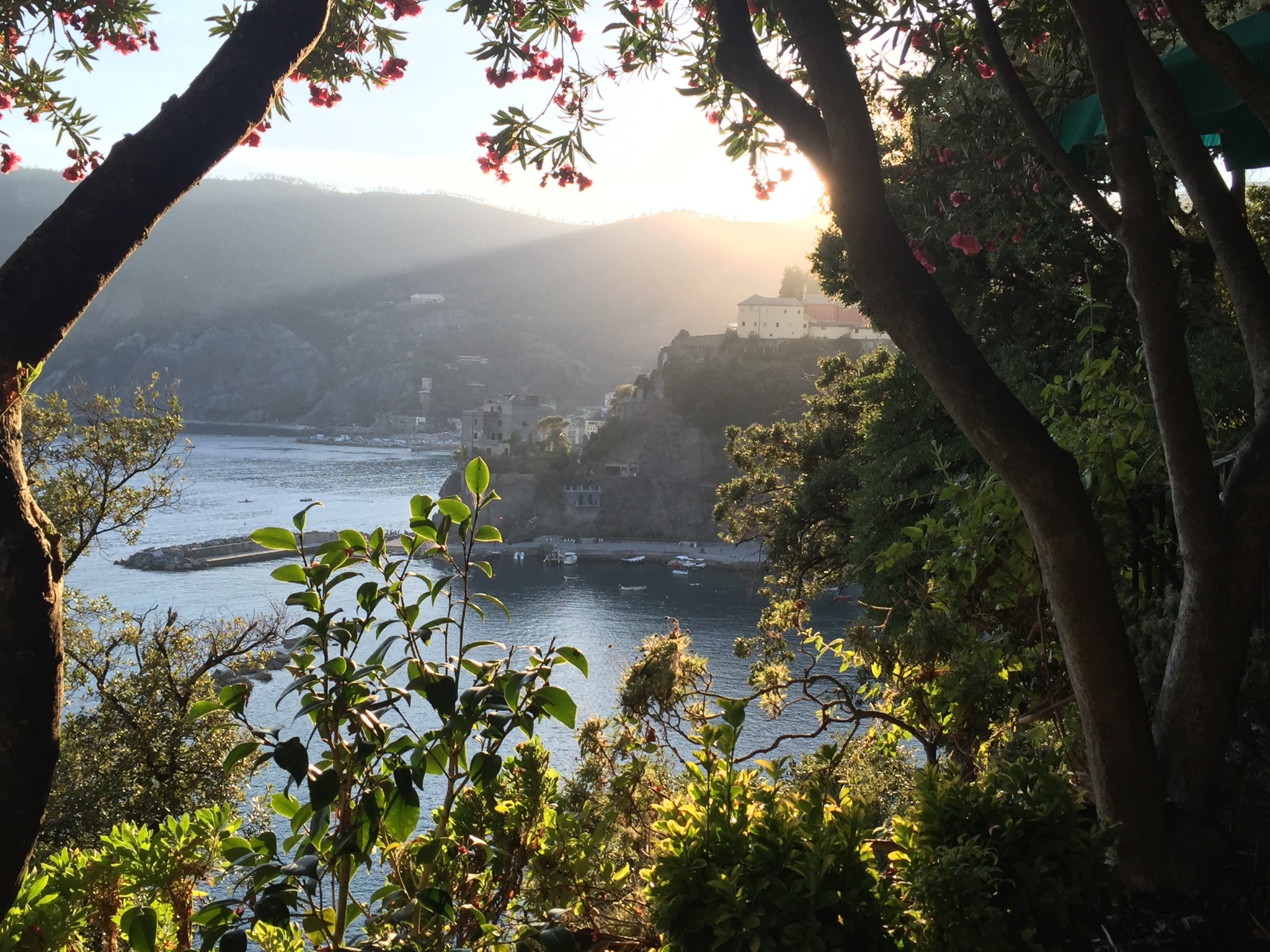 WHERE TO DRINK. The aperitivo is an integral part of life in Italy. Just before dinner, it's a time to meet friends and engage in the life of the village. You'll always be served a small snack to complement the drink.
Enoteca Eliseo: Follow the classical music to find this upscale wine bar in the heart of the village. With a wide selection of wines to choose from, including a Cinque Terre selection. I suggest the Lemon Spritz, a concoction they created in recent years. (Closed Tuesdays)
Eldorado: Want to mingle with the locals? Head to this pre-dinner or late night hotspot for one of their many cocktails or my latest favorite, the Saint-Germain Spritz.
Bar Alga: Before sunset, make your way to this beachside bar for a fresh Pina Colada served in a pineapple.
Bar Eden: Located right on the beach in Fegina, the sea views don't get much better. If you're not in the mood for a cocktail, ask for an affogato al caffe, a coffee with ice cream.
Hotel Porto Roca: For the best aperitivo views of Monterosso from above, climb the path leading to Vernazza and you'll arrive to this 4-star hotel with an outdoor terrace.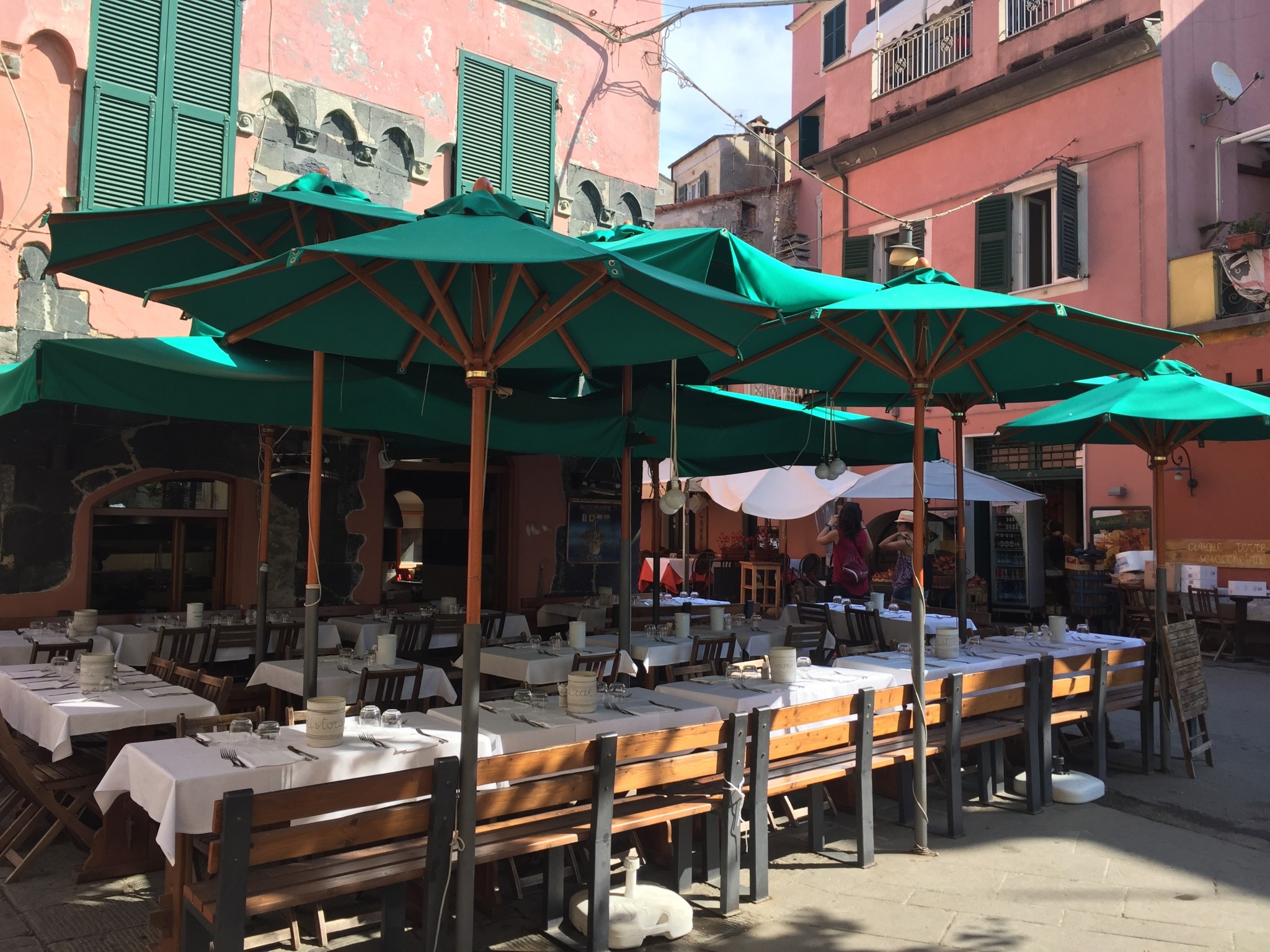 WHERE TO DINE. With so many restaurants serving similar dishes that look equally appetizing, it's hard to know where to dine. I can't say that I've tried them all, but I do have my favorites that continue to top the list, year after year. During the busy season reservations are a must!
Ristorante Ciak: Opened in 1974, the owner and chef Ciak will usually be found in the open kitchen wearing his signature sailors uniform. Ample space to dine both inside and out. Make sure to try his famous seafood risotto! (Closed Wednesdays +39 018 781 7014)
Il Casello: Situated seaside, this picturesque dining spot for both lunch and dinner serves local specialties including trofie al pesto and fresh anchovies. The owner Bacco will be happy to suggest a dish and might even share the recipe with you. (+39 333 492 7629)
L'Ancora della Tortuga: Located inside a cliff on the path between Monterosso and Fegina, this restaurant is one not to miss. During the summer months you can dine al fresco, away from the crowds of the village. Ask for their divine seafood antipasto misto, you'll thank me! (Closed Mondays +39 187 800 065)
Ristorante Miky: This elegant family run restaurant opened in 1980, was once a pizzeria, and has since evolved into the destination for 'haute cuisine' dining in Fegina. The presentation alone will impress you, not to mention the cooking. I'm a great fan of the constantly changing antipasti and grilled calamari, or try the tuna, or the seafood risotto. Honestly, you can't go wrong. (+39 0187 817608)
La Cantina di Miky: If you're looking for something more casual in Fegina, the Miky family more recently opened another restaurant with both seaside seats and a spacious cantina. Their dishes are a creative take on the classics, with a wide selection of local wines to choose from. If you run into the owner's wife Christine, she'll be happy to advise you. (+39 018 780 2525)
LOCAL SPECIALTIES. All twenty regions of Italy boast local products and dishes. Which ones are the Cinque Terre known for? Here are the must try specialties in Monterosso. I tried to keep it short, as you could easily spend all day eating!
Focaccia: The best can be found at Il Massimo de la Focaccia in Fegina.
Anchovies: Fried, stuffed, salted, with lemon, in pasta… try them in all their preparations.
Farinata: Head to Il Frantoio in Monterosso's old town to try this chick pea delicacy.
Pan Frito con Formaggio: Fried bread with cheese? Yes please! Also found at Il Frantoio.
Pesto: One of Liguria's  healthiest specialities, a must try is the pasta dish 'trofie al pesto'.
Rice Cakes: A perfect option for lunch. Go to Midi Bar in Monterosso for a taste.
Sciacchetrà: A delicious local sweet wine. Read all about how it's made here.
Cannoli: The Northern Italian version of heaven, the best can be found at Pasticceria Laura.
BEST OF. I couldn't put together a list of favorites without including my 'best of', could I?
Focaccia: Il Massimo de la Focaccia has 'right out of the oven' focaccia in many varieties. Perfect for lunch.
Pizza: Il Fornaio is a focacceria in Fegina that recently added pizza to its menu, made with all natural local ingredients.
Gelato: Midi Bar in the old town makes its own artisanal flavors, while Slurp in Fegina will awaken your taste buds with flavors including lemon and fig. Why not have two?
Pastries: Pasticceria Laura is THE spot for anything sweet. Must tries are the aforementioned cannoli and the torta Monterossina. Freshly baked by Laura herself every morning.
Cappuccino: It's hard to find a bad cappuccino in Italy. Midi Bar and Bar Eden are two of my favorites.
Souvenirs: You can certainly take home jars of pesto and a lemon or two, but what about ceramic anchovies? These and other pottery, all handmade in Monterosso, can be found at Fabric d'Arte's two locations in the old town. I already have quite a collection!
Of course you'll want to explore the rest of Cinque Terre too. You can take a train, boat or hike to the neighboring villages. Definitely worth a visit! If you're already familiar with the five lands, I suggest a train to the less touristic and charming villages of Camogli or Sestri Levante. By boat you can visit historic Portovenere or Portofino. More information on day trips and hikes can be found here.
In case you need help planning your trip, my friends at Bella Vita Travels will be happy to assist. Buon viaggio and enjoy my home in Italy!