One of the questions I'm most often asked is "Where to stay in the City of Lights?" My answer often includes a boutique hotel in the rive droite, my side of town. Even though I live in a charming Parisian apartment in the North Marais, I have an affinity for hotels designed for sophisticated travelers with style and comfort in mind. In the last few years I've experienced a few of these luxurious gems, first hand. Here are my top picks.
Under the design direction of Dorothée Meilichzon, Hotel Bachaumont re-opened in September 2015. Steps away from the pedestrianized market street rue Montorgueil, this art-deco hotel composed of 49 rooms and complete with an uber trendy bar and restaurant, is one of Paris' latest hotspots. Read all about my experience in Bonjour Paris. (Photo by Paul Bowyer)
Hotel Bachaumont // 18 rue Bachaumont 75002 // + 33 (0) 1 81 66 47 00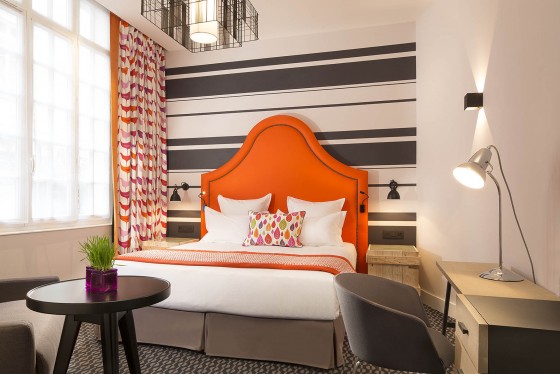 A hotel set in a former textile factory? Welcome to Hôtel Fabric. This designers' haven is located in the Oberkampf neighborhood, steps away from a slew of trendy eateries. Thirty-three rooms are equally stylish and spacious, featuring industrial decor combined with vivid prints by luxury design house Pierre Frey. Here's my complete review in France Today.
Hôtel Fabric // 31 Rue de la Folie Méricourt 75011 // +33 (0)1 43 57 27 00
Eiffel tower views, anyone? Head to the historic artists' quartier of Montmartre for both comfort and a vista. From the 7th floor bar and restaurant of Terrass'' Hotel, the panoramic views will take your breath away! Refurbished and re-opened in June 2015, find refuge in the hotels 85 contemporary rooms and 7 suites, some with private balconies. Read more in my feature in Bonjour Paris.
Terrass'' Hotel // 12-14 rue Joseph de Maistre 75018 // +33 (0)1 46 06 72 85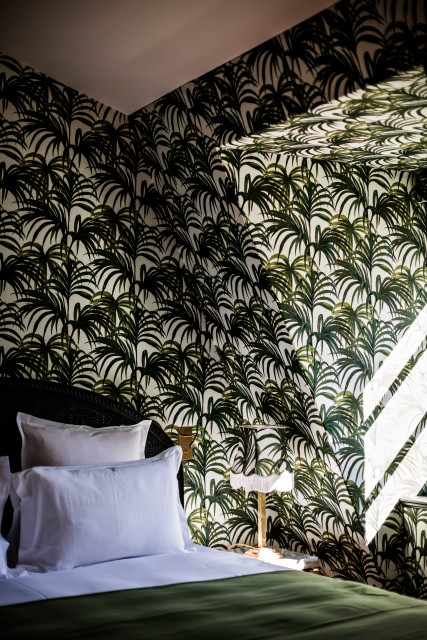 In the trendy Strasbourg Saint-Denis neighborhood, Hôtel Providence takes center stage. This recently opened circa-1854 hotel contains 18 rooms and 3 suites, each exhibiting vintage furnishings, walls clad in velvet prints, and well stocked bars. While I haven't yet stayed overnight in this chic setting which attracts quite an A-list crowd, I have admired the design of the rooms and the cozy bar and restaurant, perfect for a night cap.
Hôtel Providence // 90 rue René Boulanger 75010 // +33 (0)1 46 34 34 04