For those of us staying in Paris or visiting the City of Lights in August, the month when most Parisians leave town and head to their preferred holiday destinations, where to go to get away from the crowds and relax beneath the late summer sun? Thankfully, I've discovered a few favorite spots that I'm happy to share with you.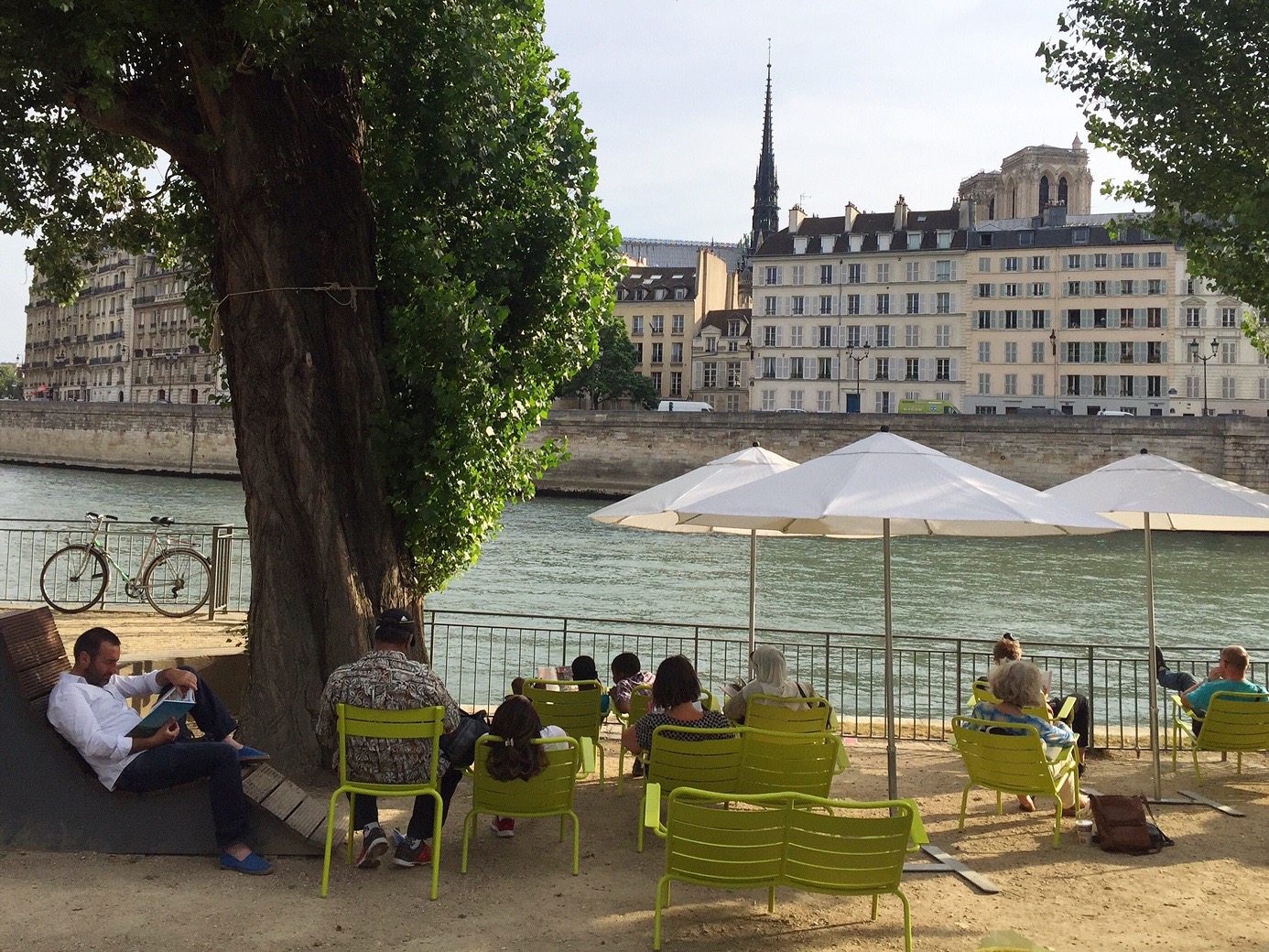 The annual Paris Plages along the banks of the Seine is back for its 14th year, with plenty of spots in which to lounge, and with some of the most impressive views in all of Paris. Sand at your feet and rosé in hand, not a bad way to relax. You can also take a dance or tai-chi class or play pétanque. From the Louvre to Pont de Sully, this year it lasts even longer, ending September 4th. 
One of my favorite discoveries has been the Jardin à l'heure d'été (summer garden) at the Swedish Institute in the Marais. By simply borrowing a book, you sit on the ample lawn all day, lounging in the sun. There's a cafe for snacks and smoothies, Swedish of course. With activities for kids, there are plenty of toddlers running around. Entrance is at 10 rue Elzévir. Open Wednesdays to Sundays from 12:30 to 7:30 until August 25th.
If sipping cocktails on a rooftop is your idea of a night well spent, then I'll meet you at Le Perchoir in the Marais. "Hidden" on the rooftop of department store BHV, this urban escape is the hotspot of the summer, if you don't mind waiting on line to experience the sunset vista. There are a few locations including the new Le Perchoir de l'est, in the east of Paris. Entrance on 37 rue de la Verrerie. Open from Tuesday to Saturday 8.15pm to 2am, and Wednesdays 9.15pm to 2am well into September.
A new addition to Paris' rooftop scene is the recently installed terrace at Galeries Lafayette, where the Cube Bar greets you with a spacious lounge, down tempo tunes and breathtaking views. With an assortment of champagne cocktails and Mediterranean appetizers, it's the perfect spot to take a shopping break and take in the city. Located on the 7th floor at 40 Boulevard Haussmann, from 10am to 8pm until August 20th.
For those in Paris, enjoy your summer in the city!