Last spring I discovered Dijon and became enamored with the Burgundy region. This year it was time to visit the smaller town of Beaune. Our first stop was Hotel Le Cep, a historic mansion where King Louis XIV once slept. This family run 4-star hotel boasts 16th century courtyards with rooms and suites decorated in endless charm. My Italian and I immediately felt at home as we were warmly welcomed by gracious owner Jean-Claude Bernard, who spoke of his family hotel's rich history. Just outside Le Cep's doors, Beaune awaited to be explored. Where to go first? We headed directly to the Tourism Office to consult the experts.
Our main objective being to discover and taste the local specialties, we headed straight to the prestigious wine cellars of Bouchard Père & Fils, once the ancient castle of Beaune. Touring their cave, we found select wines aged over 100 years! Needless to say, those we tasted were quite a bit younger. Here began a weekend of tasting some of the best wines in France.
Saturday morning the sun shone brightly and we met our new neighbors at the local market. I've been to many markets all over the country, but this one appeared to be straight out of a film set. Were we the extras?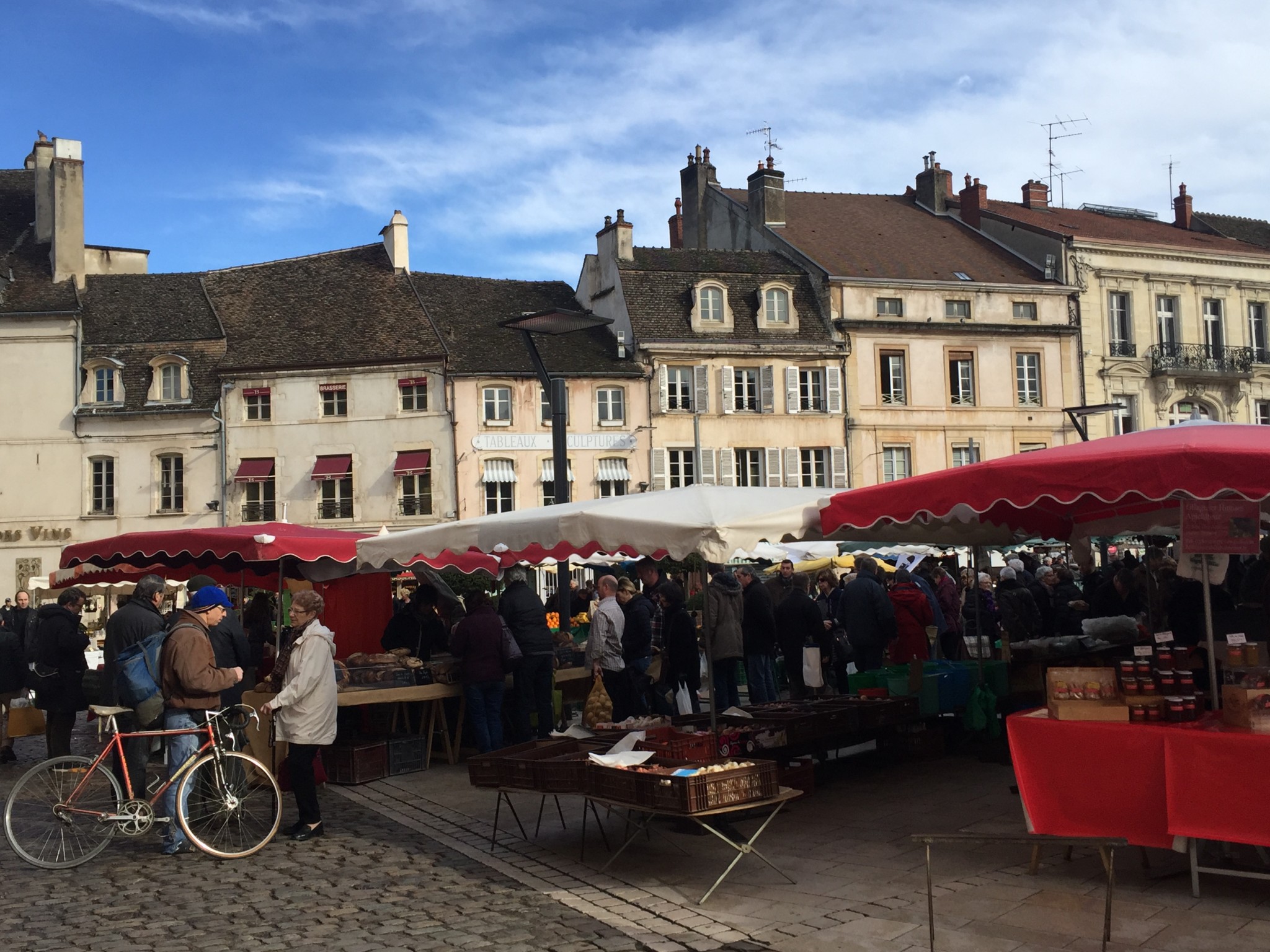 Our next stop was mustard factory Fallot, the last independent family mustard mill in Burgundy. We were met by Marc Désarménien whose family had started producing Fallot mustard in 1840. The mustard making process is a fascinating one as we learned, being led through the factory, chewing on mustard seeds along the way. Afterwards, tasting the dozens of flavors of Fallot mustard was an experience! My favorites being the classic grainy variety with white wine, followed by walnut, and honey and fig.
Wine and mustard aren't the only gastronomic delicacies that have put Beaune on the map. This town too is a haven for haute cuisine. Where did we choose among the many options? Here's my short list:
La Bussionière: Charming husband and wife run restaurant that recently moved into the center of Beaune. Selection of fresh local produce, creating delicious regional dishes.
Loiseau des Vignes: One of highly regarded Loiseau family restaurants, awarded a Michelin star in 2010 under chef Mourad Haddouche, adjacent to Hotel Le Cep. A gastronomic paradise, with 70 wines served by the glass.
Le P'tit Paradis: An intimate restaurant in the heart of the town for over 20 years, where seasonal tastes mingle with inventive dishes. Outdoor terrace for spring and summer dining.
When not wine tasting or dining, we were educating ourselves to the history of Beaune. It was in a walking tour with history buff and wine expert Kim Gagné that we learned the most. She brought us to the famous Hospices de Beaune, also called Hôtel-Dieu. Built in the 15th century and once a hospital mainly for the poor, it's now a museum. Every November, an important charity wine auction is held within this historic building.
Before heading back to Paris, we decided a tour of the vineyards would prove the best lesson of all in wine culture. Our lovely guide Brigitte from Vineatours picked us up at Le Cep and into the villages and vineyards we drove, passing Pommard and Volnay along the way. We stopped at a private vineyard and tasted a small production of premier and grand cru, increasing our home collection of Bourgogne wines.
This charming town had won my heart. Filled with the sensations of Beaune, and plenty of mustard and wine, we boarded the train back to Paris, a quick 2 hour ride. Next time we vowed, we'll return for a biking tour.