My last trip to the Côte d'Azur was in March. I spent a little time in Nice but was eager to become better acquainted with this, the region's capital. Aside from its Mediterranean climate, it's a city of art and culture, another reason to fall in love with it. To properly immerse myself in the world of French art, where better to stay than at the historic hotel Le Negresco. Centrally located between Cannes and Monaco, it sits on the famous Promenade de Anglais. It is here in this National Historic Monument, that the French works of art from Louis XIII to modern art, have a home. I knew I would be in good company.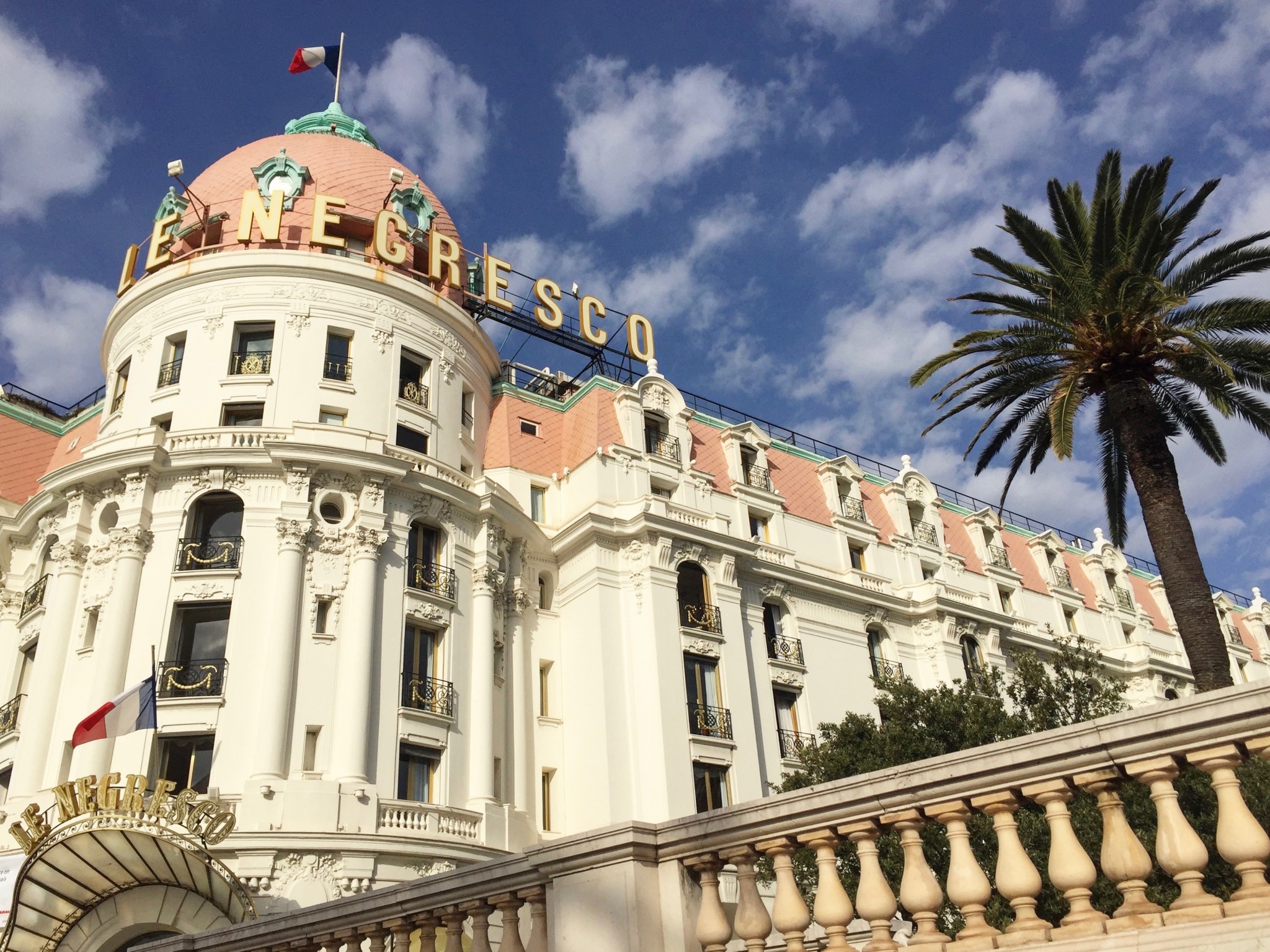 Upon entering, the grandeur of this hotel is hard to describe. I've stayed in many beautiful hotels around the world, but Le Negresco is in a class of its own. The Versailles Lounge alone takes your breath away, with Louis XIV's portrait, marble floors, hand-painted ceiling, and elegant furnishings. The fireplace too, is original. I could imagine the decadent events having taken place in this salon since Henri Negresco opened the hotel in 1913, now over 100 years old.
Next I entered the Royal Lounge, centrally situated beneath a large glass dome. This is Negresco's soul, and you can certainly feel it. Once an elegant ballroom, it's now an elaborate event space, displaying portraits of French royalty, including Napoleon III. A stunning Baccarat chandelier provides the centerpiece. Fittingly, the hotel's 93 year old owner Jeanne Augier's portrait also has a place on the wall. After all, it is she who welcomes each guest to her home, which she has taken great pride in decorating. She lives on the top floor with her cat, and ensures that this private, family run hotel remains at the highest 5-star level in comfort and cuisine.
A good friend from Nice had often spoken about the restaurants at Le Negresco, particularly the vibrant and colorful La Rotonde. It's in fact an 18th century carousel with wooden horses circling the restaurant. My eyes opened wide in amazement as I entered this space and understood immediately why it's such a warm and welcoming place dedicated to families. The terrace opens up to the sea and this is where I chose to have lunch, accompanied by the sun. Breakfast would be enjoyed in the carousel.
Le Negresco is also known for its haute cuisine. Le Chantecler is Nice's finest restaurant, with two stars in the Michelin Guide under the culinary expertise of chef Jean-Denis Rieubland. He defines his cuisine and style as "inspired by Provence, with the respect of its products and traditions". This is THE place for French gastronomy, boasting a wine cellar of over 15,000 bottles, with woodwork dating back to 1751. After dinner you can unwind at the neighboring bar with live music and a good digestif.
With each of the 96 rooms and 21 suites uniquely decorated with period furniture, I was eager to take a closer look. Mrs Augier being an art connoisseur and collector, walking through the hotel and up the four floors feels much like being in a museum, with artwork from Salvador Dali and Sonia Delaunay, tapestries from Raymond Moratti and sculptures from Niki de Saint Phalle, to name a few. And the rooms? Timeless perfection.
I felt very much at home in my room overlooking the Bay of Angels and knew I would return to this Art Hotel called Le Negresco.