Is it possible to find the tranquility of the Mediterranean hidden in the Atlantic Ocean? Just west of La Rochelle sits the island of Île de Ré. Having heard much about this natural landscape boasting sandy beaches and 10 charming villages connected by cycling paths, I decided it was time to explore. This French summer hideaway seemed like the ideal weekend away. As is often our preference, we chose to visit off season.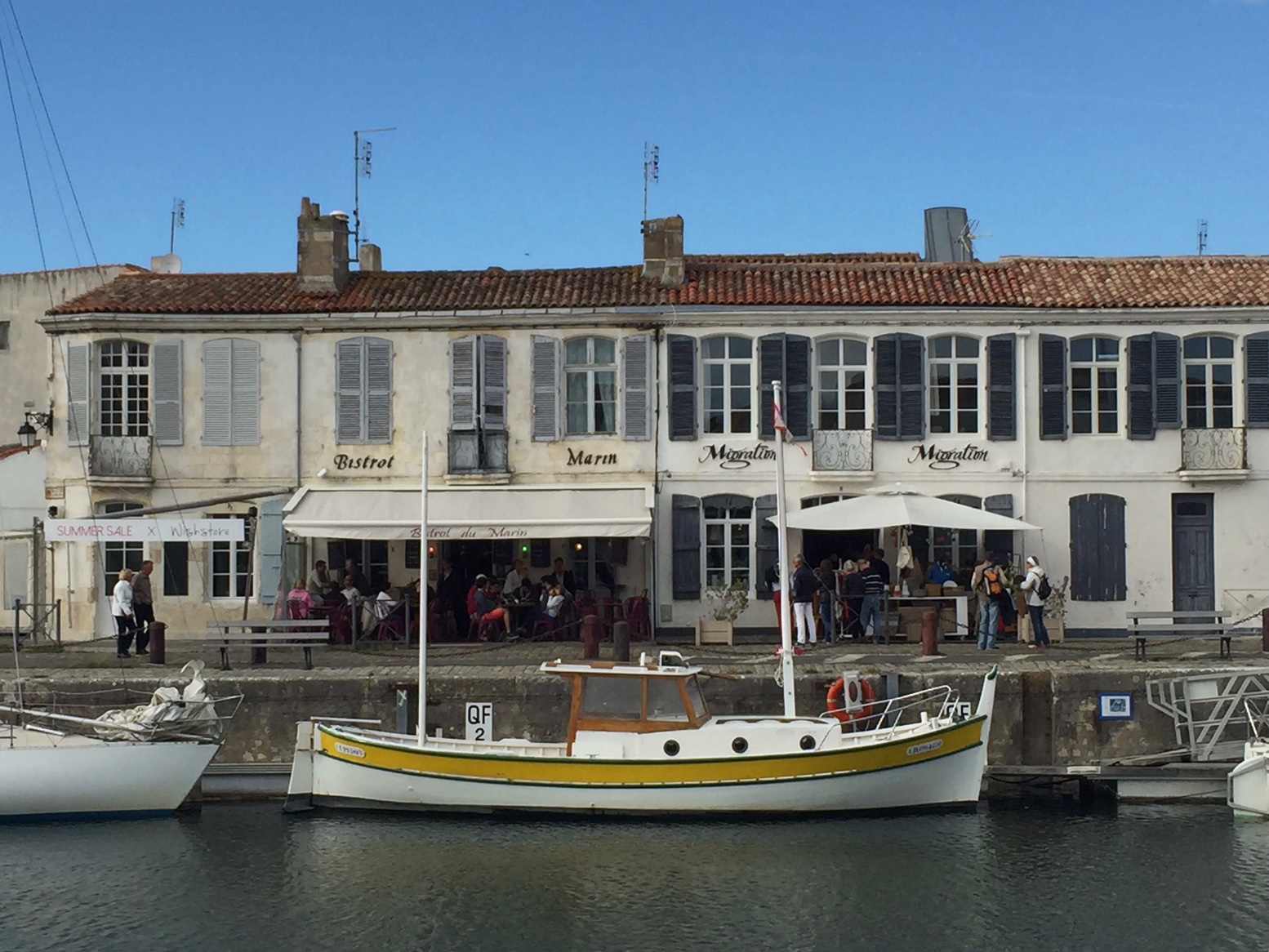 In just over three hours we arrived via train to La Rochelle. Since 1988 the city is linked to Île de Ré by bridge, providing easy access by car or shuttle bus. We chose the latter, since the main mode of island transport is by bicyle. No car is needed. The afternoon was cloudy and windy, with hints of blue setting the scene for the next few days. We chose to stay in Saint-Martin-de-Ré, the island's capital and what is considered one of the most picturesque of the villages. We arrived easily by bus and settled into our elegant hotel on the harbor. As it was the weekend, the village was bustling with locals and second home owners taking advantage of the Indian summer. Nineteen miles long and two to three miles long, this small island with a population of 18,000, grows to 130,000 during the summer months. Soon, I would discover its appeal.
The following day we rented bicycles and began our journey along the coast. Passing marshes and salt farms we made our way to the smallest of the villages, Loix. Thus began our love affair with the island. From there we rode south to Ars-en-Ré, a larger village with an active port. After lunch we met a few friends from Paris (fortunate are those with family homes in such a beautiful natural setting), and joined them at the beach near La Couarde-sur-Mer. On the path home, we rode through countless vineyards, the season's harvest ripe for picking. The landscapes all so beautifully preserved. As the sun hung low in the sky, we had just enough time to get lost in the tangle of Saint-Martin's streets.
The next day we hopped back on the bikes, first stop: oysters. I was in heaven. We sat along the coast during low tide and feasted on tender shrimp and the freshest oysters I'd eaten since our trip to Cap Ferret. A glass of local white wine to compliment. Our next stop was La Flotte, another inviting port village. We were completely smitten by these picture-perfect villages; streets filled with shuttered homes in pastel shades of green, gray and blue; ivy creeping up walls and flowers growing around every corner. The charm was immeasurable. Our journey continued to a long sandy beach close to the village of Le Bois-Plage-en-Ré. I could imagine the surfing and kite-boarding during the summer months. But now it was just us, along with a handful of couples and young families, enjoying the off-season serenity. Perfect timing, if you ask me.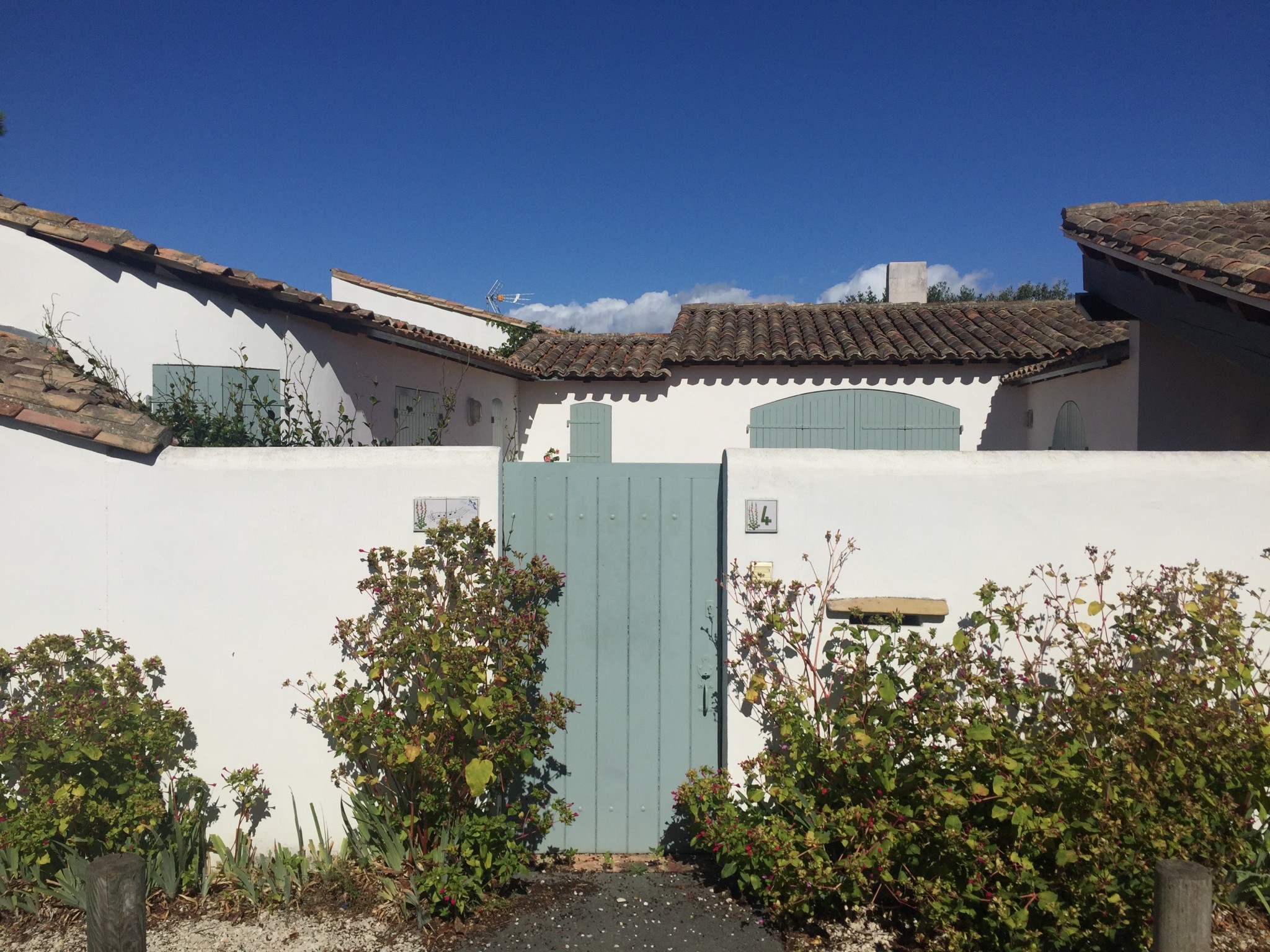 When evening fell and it was time to return to Paris, we were not eager to leave the island and vowed to return. There were more villages to explore, more local pineau to taste and oysters to savor. I could now understand why Île de Ré was considered such an island paradise. A secret the French keep well, and now one I share with you. Here are my recommendations for island life in Saint-Martin-de-Ré.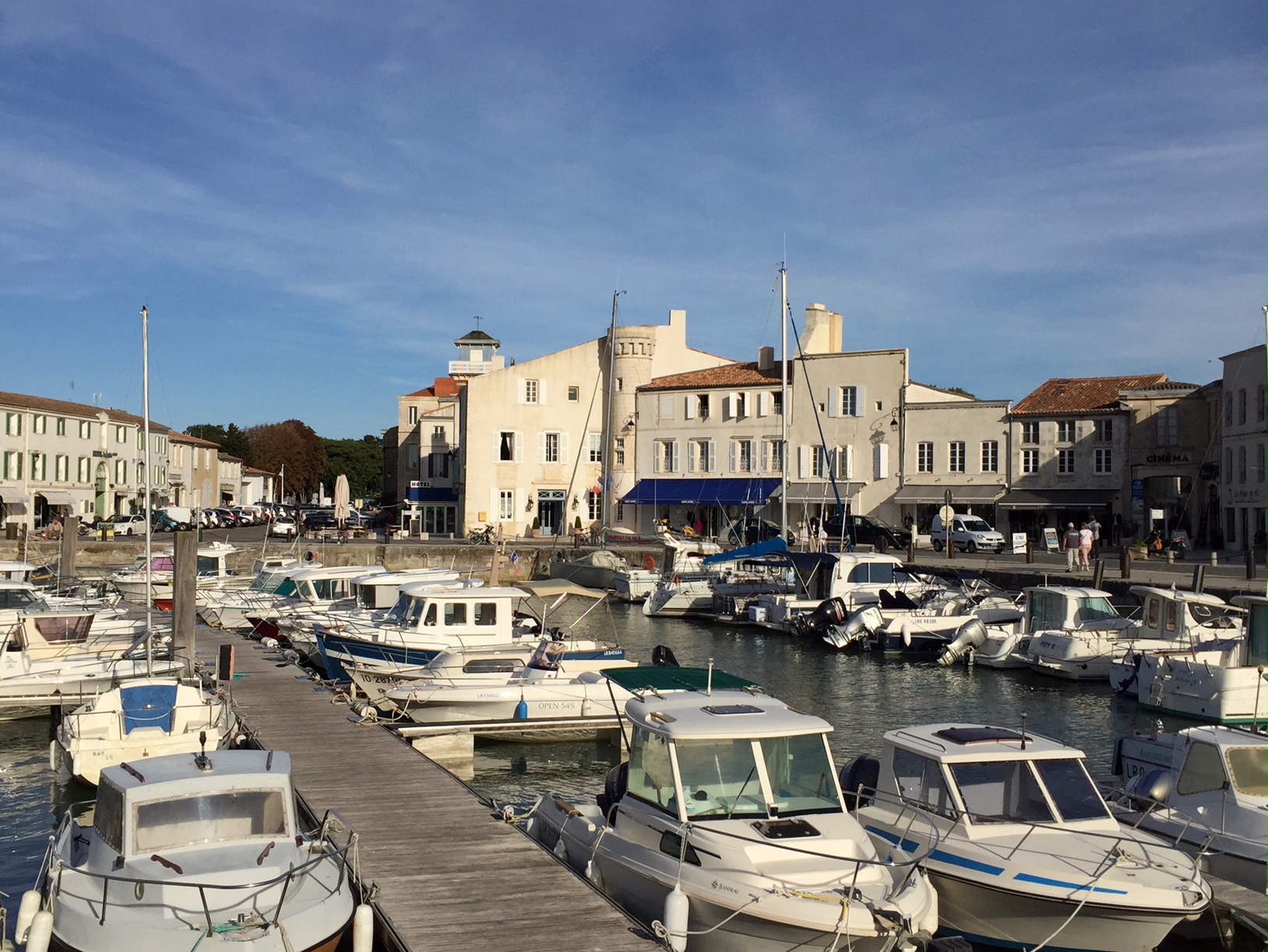 SLEEP: Hôtel de Toiras is a five-star Relais & Châteaux property located on the port of Saint-Martin-de-Ré, providing a luxurious setting for a weekend away, or longer. The rooms are spacious and tastefully decorated with old French charm. The entire setting is regal and elegant. Five years ago, the hotel acquired a beautiful old mansion and created its sister hotel, Villa Clarisse. Set father back in the village, this four-star hotel offers 9 rooms set in a lush garden with a pool. Either location makes a perfect home in the heart of the island.
EAT LOCAL: Le Bistro du Marin is THE local spot, located on the port. They don't take reservations so prepare to wait by the bar, especially if you'd like to dine outside, or en terrace. Their hearty meat dishes served with delicious home fries and fresh fish specials are certainly worth waiting for! Not to mention their homemade profiteroles. Both lunch and dinner are served daily, closed Thursdays.
EAT GOURMET: Les Embruns is just behind the port and well worth a dinner reservation (you must book ahead as they get full very quickly). This is the place for seafood, with lobster salad worth ordering, and a variety of fish dishes on the menu. For 30€ you can try the tasting menu. It's hard to go wrong in this charmingly kitschy restaurant. Open only for dinner during the high season, closed Tuesdays.
EAT OYSTERS: Ré Ostréa is a casual lunch spot along the bike path from Saint-Martin-de-Ré heading west. It's hard to miss with its colorful chairs, always full in the high season. Here you can dine on an assortment of seafood, including of course, local oysters. The fresh shrimps too, are heavenly! All dishes are accompanied by a glass of local wine. This is a must stop while on the island.
EAT SWEETS: La Martinière is a family run ice-cream and pastry shop. It's a MUST stop while on the island, though we missed out on this sweet experience since it was closed for renovations. Next time!
DRINK: Ile de Ré is not so much known for their wines as for the French apéritif Pineau, a blend of wine and cognac. As it's a sweet drink, I quickly became a fan. You can taste it at any bar or wine shop.
CYCLE: With quite a few bike rental companies to choose from, I found Cycland to be one of the best, with a great assortment of bikes and locations in 9 of the 10 villages. Definitely use bicycles to get around the island!
VISIT: Ernest Cognacq Museum is a Renaissance style mansion highlighting the historical, artistic and military heritages of the island. Worth a stop for a quick history lesson!