This year, to celebrate our 6th wedding anniversary we flew to Valencia. I hadn't been since the student days and was curious to rediscover this city in Spain's Costa Blanca. Especially with my adventurous Italian. We arrived on a Saturday and settled in to boutique hotel Vincci Mercat in the historic center. So how did we choose to spend 48 hours in this diverse city? By exploring and eating of course. It's not everyday you're in the land of paella… In addition to our favorite authentic Spanish dining spots, here's my guide to this eclectic port city.
EAT LOCAL: For the best tapas head straight to Casa Montaña. Established in 1836, this local legend is both a tapas bar and a restaurant. We were lucky to find a table at the more casual bar, and loved every bite of of our seafood, meat and vegetable plates. If you're looking for top paella, you'll find it at La Riuà in the historic center or Casa Carmela on the beach. The latter is an institution and reservations are a must. Keep in mind paella is eaten at lunch and takes around 30 minutes to prepare. Well worth the wait!
EAT GOURMET: For our anniversary dinner we discovered Navarro, a real gem. This family run restaurant in the historic center dating from 1951, serves creative cuisine with all ingredients sourced from local markets. Whether it's lobster paella or seafood salad with cucumber gelato, you will not be disappointed. One of the lovely sisters Guillermina, will make sure of that! Don't forget to try their sangria, the best I've tasted.
SHOPPING: If you're looking for specialties in the form of cheese and meat, head straight to the Mercado Central.  Over 8,000 square meters including a separate section for fish, you'll find almost 300 vendors selling all local produce. Even if you're not in the mood to shop or taste, walking around this market is an experience!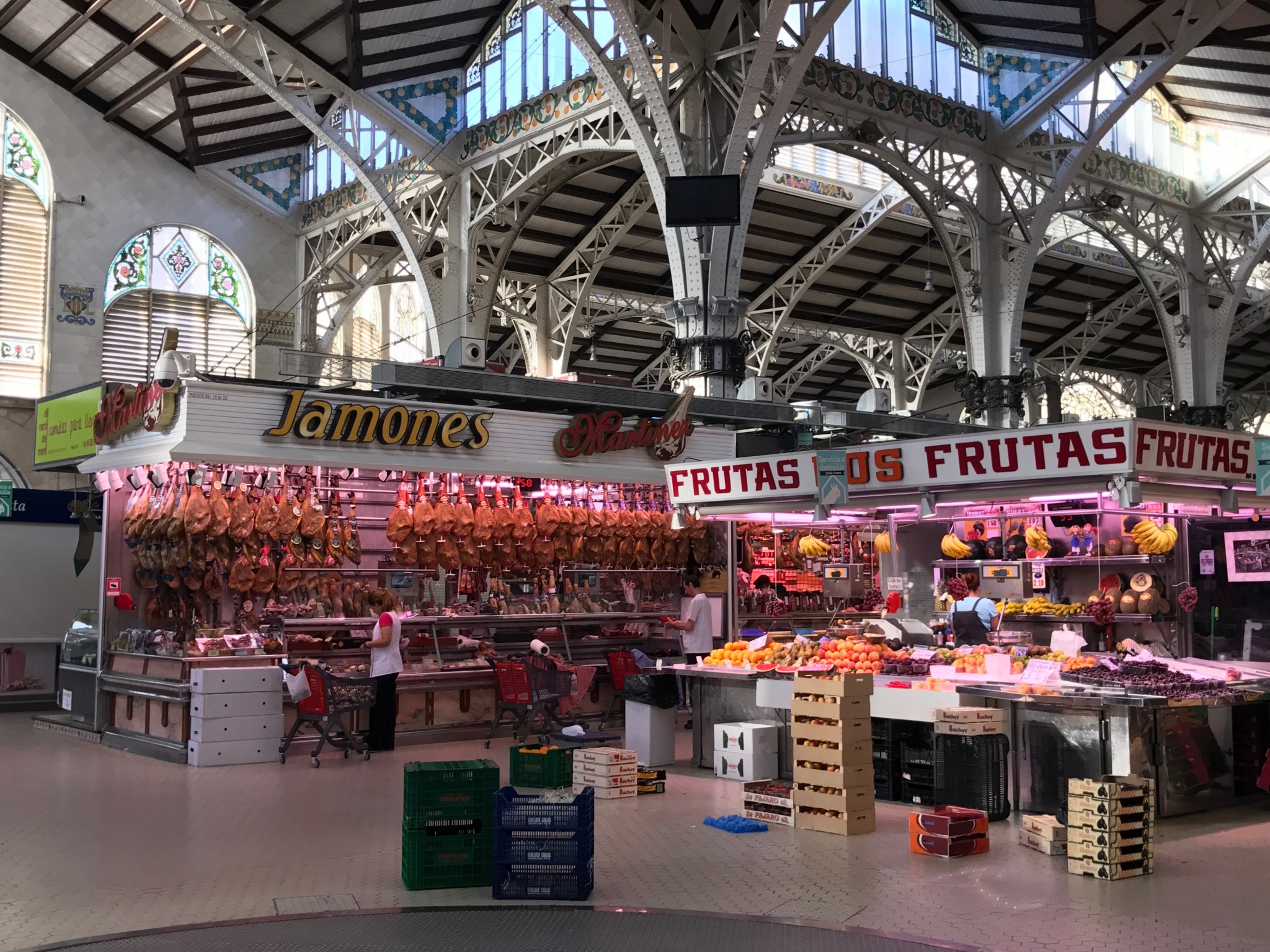 EAT SWEETS: A specialty of Valencia is a drink called horchata. This sweet milky drink is made from pressed chufas (tiger nuts). While drinking it you dip large finger-shaped pastries called fartóns, and enjoy! Horchatería de Santa Catalina is the best and most charming spot in town.
VISIT: Undoubtedly the most impressive place to visit is Santiago Calatrava's City of Arts and Sciences. This entertainment-based cultural and architectural center merits an entire day, or weekend if you can spare it. You really do feel as though you've entered another world.
BEACH IT: What makes Valencia such a desirable city for both locals and tourists is its beach life. Only thirty minutes via bus from the historic center you'll find yourself lounging on the beach. After a dip in the warm water, find a shady spot and enjoy a siesta, you'll probably need it!
In other news, I'm honored to be nominated as best expat blog! Please take a moment to vote here. Merci!