How exactly does one end up living 'the dream life' in Paris? By following your dreams, fearlessly. Forest Collins, fellow expat, drink connoisseur and creator of blog 52 Martinis, did just that. And little does anyone know (until now) just what an insightful and inspiring journey she took, with just the right amount of spare change, a little luck, a lot of strength, and always the will to dream.
Nearly ten years ago….it was a warm Parisian night and I was riding home on the Metro thinking to myself, "How did I get here?" Lost in my thoughts, I reached into my pocket and jangled my entire net worth of €1.57. Just at that moment, a busker strolled by and in a Pavlovian reaction held out his hat to the sound of my jingling coins. I didn't look him directly in the eye, but shook my head lamely and muttered a barely audible "désolée". I knew what he was thinking: I don't look very sorry and I do look like I could spare a bit of change.  I wanted to tell him that, judging by the contents of his cap, he was financially better off than me and considered asking him for some job advice.  But, instead I silently pondered my situation. It's then that I had a very important realization: In life, sometimes, you've got to eat some Top Ramen. Let's face it.  No one 
wants
 to eat Top Ramen, the main sustenance of poor, struggling, American college students. They eat it so they can afford to pay for their education…or beer.  Either way, they believe it's a payoff in the long run that's worth the deprivation in the immediate moment.  They can try and dress it up with some fresh garlic or Tabasco, but, in the end, it's still just limp watery noodles with a bit of MSG.  But, you know what? It's not. It's the sacrifices you make in the present to achieve something better in the future.
My first major "Top Ramen" experience was many years ago now. Having arrived in France, flush with cash and ready for Euro-adventure, the last thing on my mind was my finances.  But, as the date on my return ticket drew nearer, I played with the idea of staying beyond my originally planned six months. The only obstacle was my lack of funds.  Would I let that stop me? Since I was a little girl, I had dreamt of the challenges of living, working and learning the language in France. I decided I was ready to eat Top Ramen or do whatever else it took to reach this goal.  Being American, without specific marketable skills in France, not being fluent in the language and not having working papers ensured that this would be a challenge. I had to continually remind myself that my goal was not to climb a corporate ladder, but to stay in Europe.  With this in mind I began the search for work. I sat at the Internet café, plucking away at the keyboard, sending resume after resume for any job that seemed remotely feasible. For all of my persistence and eagerness I was having no luck and getting discouraged.  One evening, over drinks with friends, I was lamenting my desperate situation. Just then, someone leaned over towards our table.
"Excuse me", he says. "Would you be interested in working in an Irish pub?" Several things went through my mind. First of all, I'm skilled and educated. I should be a secretary or the President. But, a bartender? Then again, I had always had a romantic notion of what it would be like. I'd have my regulars who would sit around the bar telling me about their day. I'd mix fancy drinks and deliver them to tables with witty repartees. But for all of my "skills" and cocktail experience, I realized I hadn't a clue as to what it took to tend bar. So, of course, my response was "I'd be delighted!"
The following day, I went for my official interview with the gentleman from the bar and his business partner. In my broken French I managed to convey my enthusiasm and, apparently, impressed them enough to get the job.  They told me they'd help me get my papers, pay me a decent wage and set me up in an apartment.  The only thing I had to do was cover a shift in their restaurant for a couple of weeks while the bar was being finished.  Slightly daunted by the fact that I had never worked as a waitress, much less in a fancy French restaurant, I agreed. On my first day of work, I was initially thrilled with my good fortune – my Top Ramen days were over. It took all of twenty minutes to realize that I was completely unprepared for what was going to unfold over the next six days. I consider myself an intelligent person who learns new skills quickly, but the waitressing life was a mystery to me. It didn't help that I understood nothing anyone said. On the second afternoon, someone was giving me instructions and the only two words I understood were "touch" and "plate". So, of course I touched the plate. Immediately, I realized they must have said "Don't touch the plate. It's hot." as I screamed and waved my scalded finger in the air. My inability to understand was demoralizing.  I would become ecstatic when I took a complete order correctly and return to the kitchen to place it only to have the cook respond with an excitement-quelling look that implied "any idiot can take an order." Certainly, if they speak the language. It wasn't just the language barrier, it was the work. I did ten to twelve hour days for six straight days. It was hot and hectic and stressful. The customers were unforgiving of my lack of linguistic skill.  After what I considered a relatively successful week of work, on the sixth day I was given an envelope with my wages. I was told that they had found another Anglophone to work in the bar that already had papers. So, instead of helping me get mine, they were letting me go. Feeling hopeless, I walked home and collapsed on the couch. While doing so I opened the envelope to count the money and found I had been paid the equivalent of $2 an hour for my hard work.
I surprised myself by finding the events more funny than infuriating and tried to take it as a life lesson. Fortunately, a few days later  I got a call from a U.N. agency in Geneva to which I had applied earlier and they wanted me to come for an interview. I danced around the room with renewed hope. Then I looked at my calendar. Coincidentally, the date of the interview was the exact date of my return flight home. My return flight home on a non-changeable, non-refundable, non-transferable ticket. If I went to the interview and didn't get the job, I'd be stuck here with no money and no way to leave. But, if I didn't go to the interview, I knew I'd regret it. It's not hard to guess what I did. A week later I was on the train to Geneva, which was not far from the tiny French town of Annecy where I was staying. After the interview, on the train ride back, I fantasized about the possibility of actually living and working in Europe. Arriving at the station in Annecy, I dug around in my pockets for change for the bus ride home, but found them empty. I stopped by the cash machine and the inevitable finally happened. There was no more money in my account. I stood there absorbing the realization that I was now completely broke, in a foreign country with no guarantee of a job. I walked for an hour to get back to the tiny apartment I was renting. I sat in my room uncertain and scared. Not knowing what to do, I waited. A few days later, the phone finally rang. It was Geneva. I had the job.
Finally, the payoff! I spent the next year and a half working in Geneva. I was well paid and lived a very comfortable life. Instead of soggy noodles, I ate in fancy restaurants and spent nearly as much time traveling as working. But after sometime, the annoying little voice of adventure started nagging at me. It kept saying "This is pretty good.  This was sort of your goal.  After all, you're in Europe.  But, didn't you really want to be in Paris?"  Its counterpart, the boring little voice of realism, tried to explain that although Paris was my first choice, prior experience had taught me it would next to impossible to work in France. And, I wasn't sure I was ready to give up the good life just yet. The little voice of adventure was too strong of an opponent to defeat.  At the end of my contract, I was in a rental car on my way to Paris.
Paris, France. I had finally arrived. But, there was a sense of déjà vu. Here I was again, flush with cash from my Geneva stint, ready for more European adventure. I enjoyed myself and got settled into the apartment, the neighborhood and the city. Once again, my money dwindled. Once again, I realized it was time to find work. Once again, I tried everything I could think of. Searching the classifieds, I applied to any job I thought I could do – and even some that I knew I couldn't. I networked.  I searched notice boards and the Internet. After a few months of this, I had nothing to show for my efforts except an empty bank account. During this time, I was offered a few positions back in Geneva. It wasn't easy to not give up on Paris and return to a comfortable, stable and well-paid life. But, here I was stubbornly staying put without even enough money to buy a cup of coffee. Fortunately, what I didn't know at that time was that I was about to be offered a job in a translation office. Would it be more Top Ramen or just what I wanted? There would be no way to find out but to try.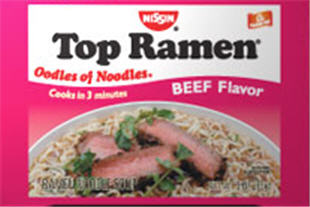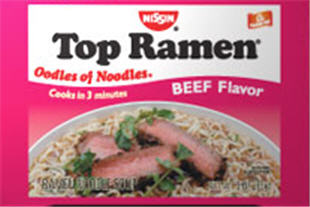 I still remember that metro ride, which was so many years ago now. I think about all my friends that tell me how "lucky" I am to live in Europe and follow my dreams. But, I know it's not luck. I've eaten a lot of Top Ramen to get to where I am today.
If you'd like to know what Forest is eating (and drinking) these days, follow her on twitter and be sure to check out her blog.
Thanks Forest, and cheers to you! Keep on living your dreams…