I lived in NYC for 12 years, though barely can I consider the life I led to be that of Carrie, Charlotte, Miranda or Samantha of Sex and the City, contrary to what anyone might believe, my Italian included. Perhaps a mix of Carrie and Charlotte on the best of days? Though Miranda, with her pioneering spirit lived only a block away from me in the Lower East Side, in the film that is. And don't we all fantasize about  Samantha's escapades, even just a little? I must admit, I did enjoy living vicariously through these stories while living my own more tame versions, all the while never succumbing to carousing the NYC streets in a pair of Louboutins. I'm proud of that, I might add.
Where Carrie's love story concluded in the first film, my story began. Thus, Love in the City of Lights was born. 
Now, as Sex and the City 2 is due to premiere in Paris, I am curious to follow these ladies on their adventures continue. I cannot even begin to imagine how the story unfolds, this uniquely tangled web of love, lust and laughter, perhaps proving yet again that friendship (if nothing else) is forever. It appears that the entire world is curious as well. Here in Paris the 'hot-spot' Café Etienne Marcel (34 rue Etienne Marcel, in the 2nd) has been transformed into an even more sultry 'Café Sex and the City'. I could hardly believe it! Are Parisians such die-hard fans of this fab four? And do they really believe that is how we women live in NYC? Perhaps that's why most Parisian girls (or any girls for that matter) swoon when I mention NYC. Ah yes, the stories I could tell…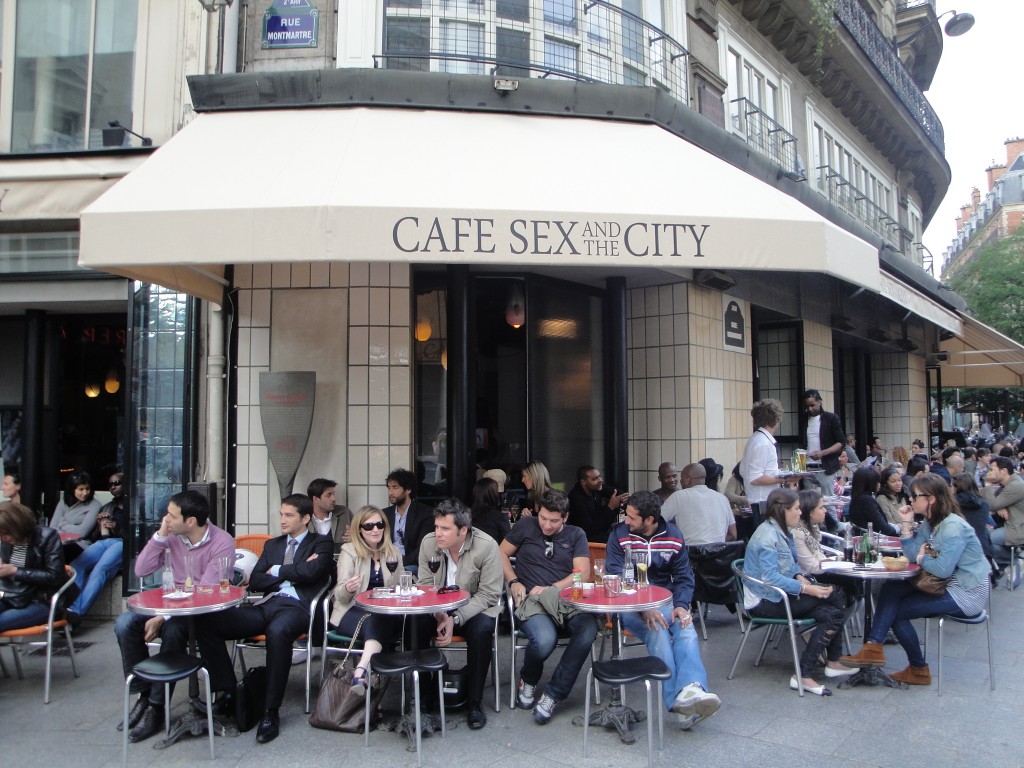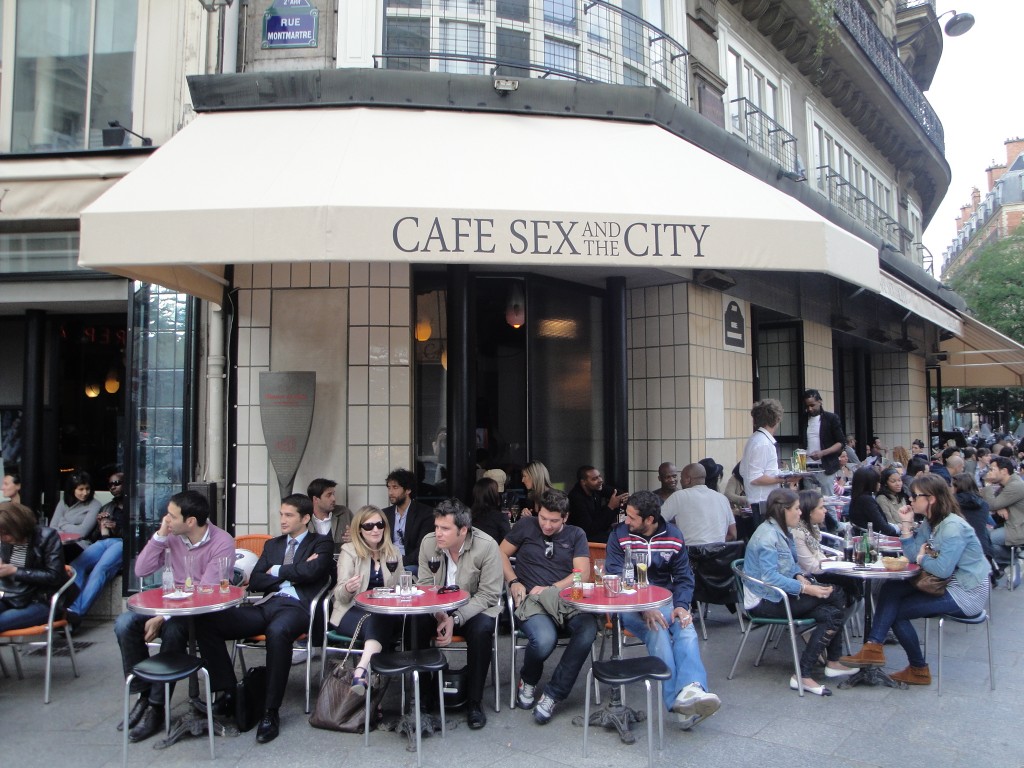 What really provoked my interest to venture to this cafe was not the NYC-style cosmopolitans and the trendy ambiance, but three of my favorite ex-pat authors. WH Smith, the English language bookstore in Paris, haven to many fellow ex-pats, was recently hosting an event as part of the launch of Sex and the City 2, creating their own 'Foodies in Naughty Paris' event. 
I was excited and honored to meet this trio, David Lebovitz, Alexander Lobrano, and Heather Stimmler-Hall, all in one room, with books to sign and stories to tell, and at such a 'sexy' venue! Ex-pat writers who followed their own unique paths, stars of their own Parisian dramas, in David Lebovitz's case, often a comedy. I was hesitant to buy any more guide books on Paris as I regularly read these authors websites, and still have many Paris themed books at home yet to peruse, but I could not resist. Especially after speaking with each author and getting to know them on a more personal level.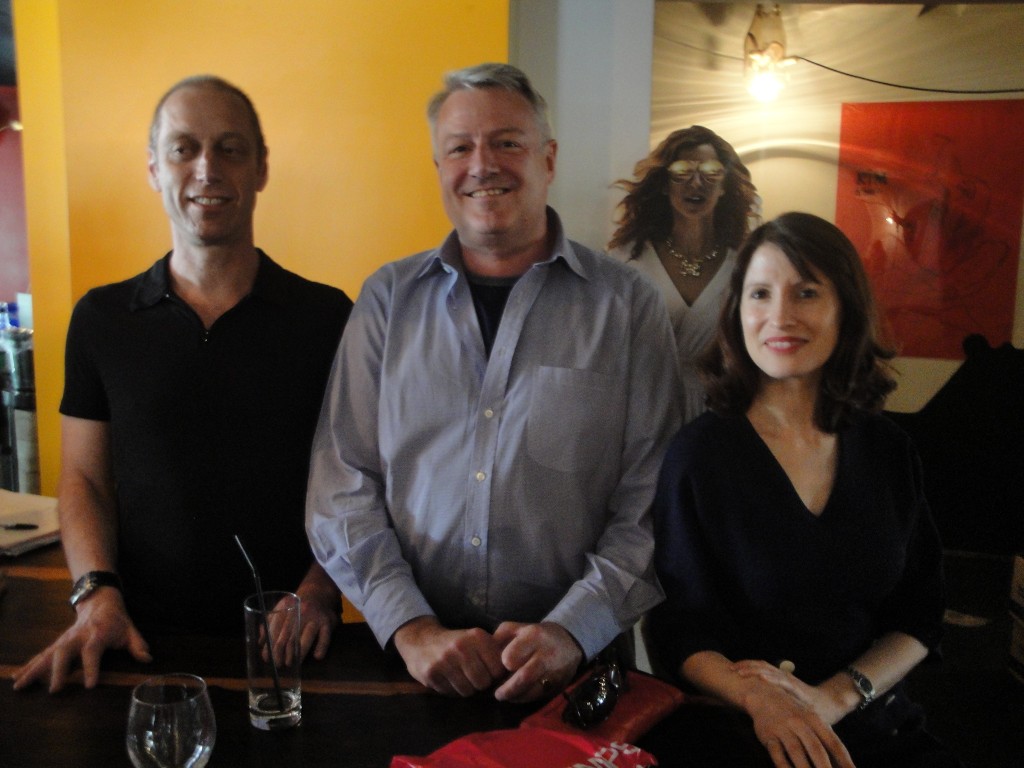 My growing collection of books now includes David's heartfelt and humorous tales in The Sweet Life in Paris: Delicious Adventures in the World's Most Glorious – and Perplexing – City, Alexander's thorough guide to tastefully eating his way through this delicious city in Hungry for Paris: The Ultimate Guide to the City's 102 Best Restaurants, and a 'reference' book every woman must own, Heather's Naughty Paris: A Lady's Guide to the Sexy City. 
As soon as I can put the books down and take a break from my own romantic escapades, I will venture to the cinema for a rendezvous with the NYC gals.